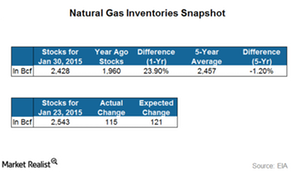 A lower-than-expected natural gas draw-down – what does it mean?
By Mike Sonnenberg

Dec. 4 2020, Updated 10:53 a.m. ET
Implied flow
The EIA (US Energy Information Administration) publishes a natural gas storage report every Thursday. The report is for the previous week. In the last part of this series, we discussed the natural gas inventory.
As we discussed earlier, excess natural gas that's produced in the spring, summer, and fall—the injection season—is stored underground to meet seasonal demand in the winter. During the winter, natural gas demand increases for two reasons:
Heating
Electricity generation—driven by heating demand
Natural gas production during the winter generally isn't enough to meet the demand. As a result, the stored natural gas is used up during the winter. As the winter passes, this results in a gradual decrease in the inventory. Any draw-down that's in excess of production is known as "implied flow."
Article continues below advertisement
Lower-than-expected draw-down
According to the EIA, 115 billion cubic feet, or Bcf, of natural gas was drawn out during the week ending January 30. This was against Wall Street analysts' expectation of 121 Bcf. Despite cooler weather in parts of the US, the draw-down remained below expectations.
Impact on coal producers
The price of any commodity is driven by demand and supply. Production and inventory define natural gas supply. A lower-than-expected draw-down maybe a result of lower production or higher consumption. Lower-than-expected natural gas supply is negative for coal producers (KOL) like Peabody Energy (BTU), Alpha Natural Resources (ANR), Arch Coal (ACI), and Cloud Peak Energy (CLD).