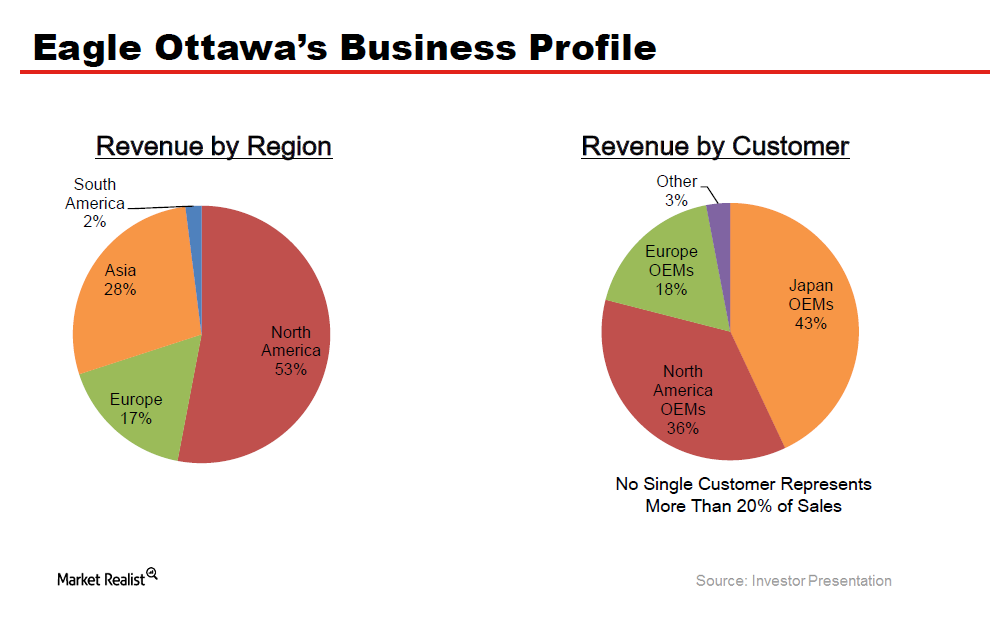 Lear acquired automotive leather supplier Eagle Ottawa
Business profile
In the third quarter of 2014, Lear (LEA) announced its intention to acquire premium automotive leather supplier Eagle Ottawa. Lear completed the acquisition in early January in an all-cash transaction. In this part of the series, we'll take a closer look at Eagle Ottawa's business profile before we dive into the transaction details and potential synergies that could result from the transaction.
With annual sales of approximately $1 billion, Eagle Ottawa is the world's largest supplier of premium automotive leather with a rich 150-year history and stable private ownership for nearly 50 years. The company has an experienced management team and a reputation for superior quality, product innovation, and craftsmanship.
Article continues below advertisement
The company has ten modern manufacturing facilities that are strategically located in five low-cost countries: four in Mexico, three in China, one in Brazil, one in Hungary, and one in Thailand. As the above chart shows, the company's revenues are well diversified in terms of both customer and region.
Solid reputation
Eagle Ottawa has established partnerships with automakers for developing proprietary designs and co-branded leather. While no single customer accounted for more than 20% of the company's sales, Eagle Ottawa also supplies to Lear's top three customers: Ford Motor (F), General Motors (GM), and BMW (BMW).
Eagle Ottawa is known for its product differentiation strategy that tailors its products to suit the requirements of the end consumer. Its leather processing and design capabilities are high quality as well as innovative. Eagle Ottawa was the first to come out with low volatile emission leather to meet requirements in China, as well as recycled composition leather and soil-resistant leather products.
ETF investors looking to gain exposure to Lear (LEA) can consider the First Trust Consumer Discretionary Alpha Fund ETF (FXD) and the iShares Morningstar Mid Core Index ETF (JKG), which have an allocation of 1.40% and 0.54%, respectively, in Lear.