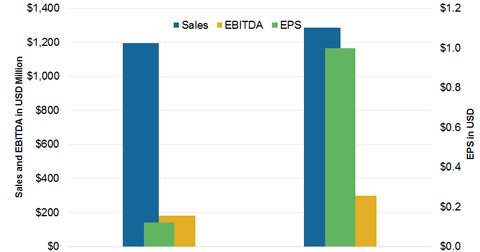 Key takeaways from Cliffs' earnings in fiscal year 2014
By Anuradha Garg

Updated
Cliffs' earnings
Cliffs Natural Resources (CLF) released its earnings on February 2. It held the conference call with analysts the next day. Weaker iron ore and coal prices negatively impacted Cliffs' results. However, this is what the market expected. There were some cost control initiatives from management that offset some of the negative impact of lower prices.
Article continues below advertisement
Good cost control
The company showed good cost control in 4Q14. Management plans to cut costs by $5 per ton year-over-year, or YoY, in the US Iron Ore, or USIO, segment. It also plans to cut costs by $20 per ton YoY in the Asia-Pacific Iron Ore, or APIO, and North American Coal, or NAC, segments.
Lower revenue
In 4Q14, the consolidated revenue of $1.3 billion decreased $231 million, or 15%, from 4Q13. The decrease was primarily driven by lower revenue from the APIO and Eastern Canadian Iron Ore segments. In these segments, realized revenue is closely tied to seaborne iron ore prices. The prices were 45% lower—compared to 4Q13.
The decrease in consolidated revenue was partially offset by increased revenue from USIO. In this segment, the sales volumes increased by 26%. The revenue rate only decreased by 12%—compared to the prior quarter last year.
For 4Q14, Cliffs recorded a net loss attributable to its common shareholders of $1.3 billion, or $8.25 per diluted share. These results include Eastern Canadian Iron Ore operating margins, asset impairment charges, and other items. Excluding these items totaling $1.4 billion, Cliffs reported fourth quarter adjusted net income of $166 million, or $1 per diluted share. This is much higher than the market expectation of earnings per share, or EPS, of $0.12.
Production growth remains strong for large companies—including BHP Billiton (BHP), Rio Tinto (RIO), and Vale SA (VALE). This production growth, without a proportionate increase in demand, is putting downward pressure on prices. Cliffs forms 3.69% of the SPDR S&P Metals and Mining ETF (XME).
Before we discuss the results in more detail, we'll briefly talk about Cliffs' business overview.