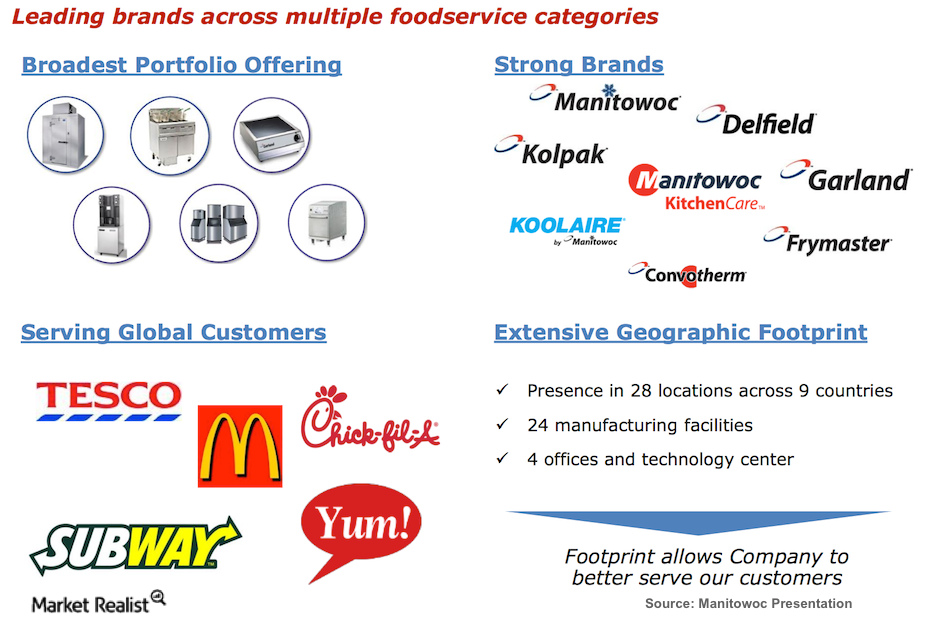 A key overview of Manitowoc's foodservice business
By Diana Key

Feb. 9 2015, Updated 3:06 p.m. ET
Manitowoc's foodservice business
Manitowoc's (MTW) board of directors has approved the company's plan to separate its foodservice business from it cranes business. This decision came after activist investor Carl Icahn disclosed his stake in Manitowoc.
Manitowoc's foodservice business designs, manufactures, and supplies food and beverage equipment. The company acquired Kolpak and McCall to strengthen its operations in foodservice. Manitowoc expected to establish itself "among the world's top manufacturers of commercial foodservice equipment" with the acquisition of Enodis in 2008.
Article continues below advertisement
Today, the business has a worldwide network of 120 distributors. The company provides for the ice, beverage, refrigeration, food prep, and cooking needs of restaurants, convenience stores, hotels, hospitals, and other institutions. Its product offerings feature both hot-side and cold-side commercial foodservice equipment. The company has over 24 industry-leading brands, and a presence in five continents and more than 80 countries.
The company's foodservice segment serves many industries, but most of its revenue comes from the restaurant industry. In 2014, the restaurant industry contributed 68% to the company's total foodservice revenue. This segment serves many global restaurant clients including Tesco, McDonald's (MCD), Yum Brands (YUM), Starbucks (SBUX), Chick-fil-A, and Subway.
NRA's Restaurant Performance Index is rising
Foodservice equipment sales depend on the restaurant industry's outlook. In the month of December, the National Restaurant Association's Restaurant Performance Index (or RPI) stood at 102.9 compared to 102.1 in November.
The RPI has been over 100, or in an expansion period, since March 2013, which is positive for the restaurant industry. These trends will benefit MTW and its foodservice equipment peers Middleby (MIDD) and Illinois Tool Works (ITW).
In the next part of the series, we'll discuss fourth quarter and full-year 2014 results for Manitowoc's foodservice business.