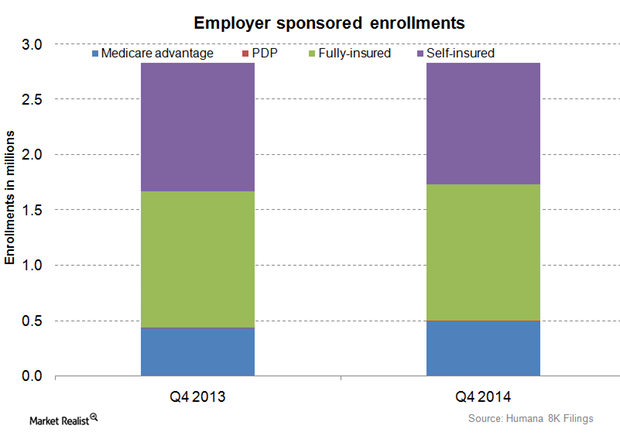 Key drivers for Humana's fully insured employer-sponsored plans
By Margaret Patrick

Mar. 4 2015, Updated 3:05 p.m. ET
Employer-sponsored segment
The private health insurance industry (XLV) caters to large and small employer groups by providing several product offerings. These products include employer-sponsored medicare advantage plans, fully insured and self-insured plans, and health and wellness plans. To learn more about fully-insured and self-insured plans, please see Making sense of health insurance types: An investor's guide.
Article continues below advertisement
Employer-sponsored Medicare Advantage
Employers directly contract with Medicare and create benefit packages for their retirees. Managed care organizations such as Humana (HUM), Aetna (AET), Cigna (CI), and UnitedHealth Group (UNH) then provide the coverage. Humana's employer-sponsored Medicare Advantage enrollees rose by 14.1%—from 0.43 million in the fourth quarter of 2013 to 0.49 million in the fourth quarter of 2014. The company added another large employer account to its portfolio.
Fully insured enrollments
Humana's (HUM) fully insured enrollments remained almost stable at 1.2 million in the fourth quarter of 2013 and the fourth quarter of 2014. The increase in membership among the company's small group plans was offset by a decline in enrollments among large group plans. About 65% of Humana's fully insured enrollments are in small group plans, where the number of members in the group is up to 100.
Humana's increased enrollments in the small group segment are mainly a result of the provision in the ACA (Affordable Care Act) that requires private health insurers to charge premiums based on an adjusted community rating method instead of the previous experience rating method. The experience rating method determined premiums based on the employee group's prior and current claims experience. The community rating method, on the other hand, determines premiums by dividing the insurer's total expected costs along with the required profits among all of the insurer's enrollees.
The adjusted community rating method adjusts the community rating method premium for group-specific characteristics such as the percentage of single and family contracts within the group and the average size of the employee's family. The adjusted community rating method has resulted in lower premiums for small employer groups, who are now more inclined to purchase insurance from health insurers.