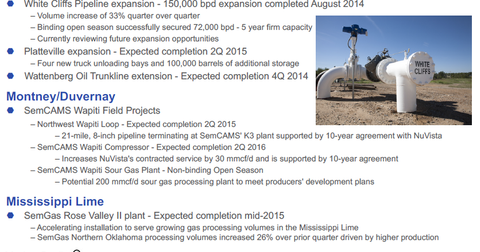 Iridian slightly raises its holdings in SemGroup Corporation
By Stuart McKenzie

Updated
Iridian's position in SemGroup Corporation
According to a recent 13G filing in January, Iridian Asset Management slightly increased its holdings in SemGroup Corporation (SEMG). It raised its shares from 3,577,703 shares to 3,585,358, resulting in a passive stake of 8.2% in the company.
Article continues below advertisement
SemGroup Corporation: An overview
SemGroup Corporation (SEMG) is in the business of transporting energy via a network of storage tanks, terminals, and pipelines. The company offers marketing, distribution, storage, processing, transportation, gathering, and other miscellaneous midstream services. It caters mainly to independent natural gas and oil producers, petroleum product refiners, and other players in the United States, Canada, the United Kingdom, and Mexico.
Rose Rock Midstream is SemGroup's limited partnership for acquiring, developing, operating, and owning a broad portfolio of energy assets.
Midstream growth reinvigorated by shale production
According to a Deloitte report, the surge in domestic production of tight oil and shale gas has led to a massive demand for infrastructure to connect these newly discovered resources with processing plants and refineries. This surge in domestic production is a result of technological advances in horizontal drilling and hydraulic fracturing.
The midstream sector has ventured into a phase of high growth, requiring large levels of capital investment in order to meet infrastructure needs. This trend is favorable for companies such as SemGroup.
Article continues below advertisement
Pressure on SemGroup from activists to explore opportunities for sale
Sandell Asset Management recently released a letter to SemGroup's board of directors. The letter requested the board to review prospects for a sale. This was in the context of a supposed undervaluation of the company's shares and the growing trend of M&A (mergers and acquisitions) activity in the midstream sector.
Sandell also expressed the opinion that potential acquirers would be willing to pay a significant premium for the company's shares, given its highly valued asset base.
SemGroup's business model and growing international presence
SemGroup's business model is fee-based. Fixed fee contributes the most to the company's margins. It consists of storage, transportation, unloading, and processing fees.
The company's market-leading position in asphalt is a driver for growth in Mexico where it leads the market in product technology and volume. In Canada, the company's business benefits from its strong position in the Duvernay and Montney formations.
Article continues below advertisement
Healthy financial performance in 3Q14
SemGroup's adjusted EBITDA (earnings before interest, taxes, depreciation, and amortization) in 3Q14 increased 38% compared to 2Q14 and 52% compared to 3Q13. This figure had a CAGR (compound annual growth rate) of 32% measured between 2011 and 2014E.
Total liquidity amounted to a healthy $969 million, which could be used to fund future growth opportunities. Dividends paid by the company have also increased cumulatively by 58% since their initiation in 1Q13.
Iridian's 13G positions
According to its 13G filing, Iridian Asset Management didn't initiate any new positions.
The fund increased its holdings in the following companies:
A significant aspect of the fund's 13G filings is that Iridian Asset Management dropped the following two key positions:
In the next part of this series, we'll look at why Iridian Asset Management dropped Dresser-Rand Group, Inc. (DRC).