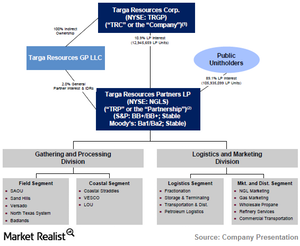 Iridian enters into a new position in Targa Resources
By Stuart McKenzie

Updated
An overview of Targa Resources
Targa Resources Corp. (TRGP) owns limited and general partner interests within Targa Resources Partners (NGLS), a publicly traded limited partnership based in Delaware. Targa Resources Partners acts as an industry-leading provider of services in the midstream natural gas liquid and natural gas market within the US.
Targa Resources Partners sells, processes, treats, compresses, and gathers natural gas. It also treats, fractions, stores, sells, and transports natural gas liquids. The company functions under two divisions: the Gathering and Processing Division and the Marketing and Logistics Division.
Iridian acquired a new stake in Targa Resources (TRGP). The fund held 24,131 shares of the company in its 4Q14 portfolio, representing 0.01% of the fund's portfolio for the final quarter of 2014. Targa has a 0.03% representation in the iShares Russell 1000 Growth ETF (IWF).
Article continues below advertisement
Targa has a strong presence in active basins
Targa holds a strong leadership position in the Permian Basin, which is rich in liquids and oil. Additionally, the company established a dominant position within Mont Belvieu, which is the hub within North America for natural gas liquids.
Targa's footprint in Mont Belvieu is not replicated easily by competitors. The Gathering and Processing assets of Targa are situated in close proximity to attractive resource and shale plays.
Targa's recent capital projects
Targa completed close to $1 billion worth of projects during 2013 and close to $1 billion in 2014. Additionally, the company is focusing on growth projects of an extremely high quality for 2015 and beyond, with a specific focus on capex (or capital expenditure) efficiency. Projects include the new Delaware Basin Plant and the new Badlands Infrastructure and Potential Plant, both of which could be delayed or downsized.
Increasing supplies of natural gas liquids across the US would continue to drive the need for increased connectivity, fractionation, and processing.
Article continues below advertisement
Strong fee-based margin business model
Targa's business experiences additional stability due to the increasing levels fee-based margins. Close to 70% of the operating margin for 2014 was fee-based. Capex projects initiated with firm contracts offer clear visibility as to the growing fee-based operating margin. Ethane export, additional fractionation, and additional condensate splitter projects are other prominent fee-based projects in the pipeline.
The scale of the company's business, the geographic and business diversity, growing fee-based margins, and hedging seek to encourage Targa's mitigation of commodity price volatility.
Targa's strong 2014 financial performance
Targa recorded a massive 53% year-over-year increase in its adjusted EBITDA (or earnings before interest, tax, depreciation, and amortization) for 2014, which amounted to $970 million. The company has more than $2.9 billion of current liquidity, which is expected to be sufficient to successfully close the Atlas transaction. With a target leverage ratio of between 3x–4x, the company achieved a compliance leverage ratio of 2.6x during 4Q14, at the low end of its target range.
The operating margin for logistics and marketing increased by more than 25% during 4Q14 as compared to 4Q13, owing to enhanced LPG (liquified petroleum gas) export activity and enhanced fractionation activities.
Article continues below advertisement
Benefits to Targa from the Atlas acquisition deal
In October 2014, Targa announced its agreement to acquire Atlas Pipeline and Atlas Energy for nearly $7.7 billion. The transaction is expected to close by the end of February 2015. Targa expected the acquisition of Atlas to boost its growth prospects, geographic diversity, and scale of Targa, as well as to make the merged entity into a premium provider of midstream services within the Permian Basin.
Iridian's key position changes for 4Q14
Iridian initiated new positions in Micron Technology (MU) and Targa Resources (TRGP). The fund exited its position in FMC Corp. (FMC) and Occidental Petroleum (OXY). Iridian adopted a bullish stance to Masco Corp. (MAS) and a bearish stance with respect to NCR Corporation (NCR) and AutoZone (AZO).
We'll discuss Iridian's sale of its holdings in FMC Corp. in the next part of this series.