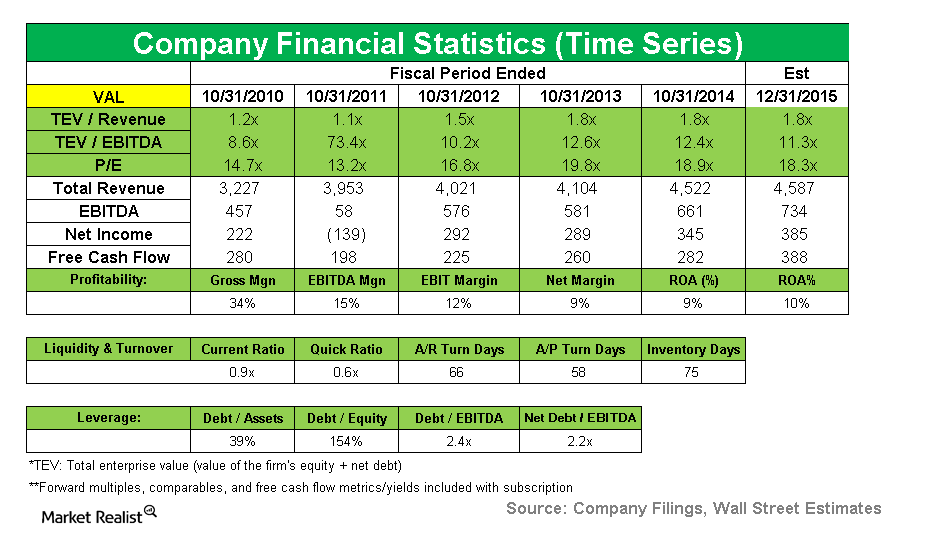 Iridian Asset Management ups its position in Valspar Corporation
By Stuart McKenzie

Feb. 20 2015, Updated 1:05 p.m. ET
Iridian's holdings in Valspar
In a recent 13G filing, Iridian Asset Management increased its holdings in the Valspar Corporation (VAL) from 4,357,803 shares to 5,243,666 shares. This represents a 20% increase. The filing also disclosed that the fund holds a passive stake of 6.4% in the company.
Article continues below advertisement
Overview of Valspar
The Valspar Corporation (VAL) is a coatings and paint business. It distributes and manufactures a diverse range of paints, coatings, and other related products. Valspar's two segments are Paints and Coatings.
The Coatings segment includes Valspar's packaging product line and industrial product lines. The company offers a diverse range of protective and decorative coatings for plastic, wood, and metal, mainly for sale to OEM (original equipment manufacturer) customers in the Americas, Europe, Australia, and Asia.
The company's Paints segment includes a range of products such as aerosol spray paints, topcoats, primers, and paints. These products are sold primarily through company-owned stores, distribution networks, and retailers.
Favorable macro drivers for Valspar's coating and paint product lines
Valspar's Coatings segment includes coil coatings, general industrial coatings, wood coatings, and packaging coatings. Growth drivers for Valspar's coil coating solutions products include the following:
improved US nonresidential construction spending, from $311 billion in 2013 to $331 billion in 2014
a strong demand from China for high-performance coatings that cater to high-performance steel products
Growth in US housing starts and increased US repair and remodel spending are favorable factors for the company's wood coating products. Continued recovery in the housing market in the United States coupled with consumers opting for premium quality products will propel the company's Paint product line.
Article continues below advertisement
Strong non-BPA leadership
According to health authorities, bisphenol A (or BPA), which is typically found in boxes and bottles, is linked to breast cancer and other health complications. Non-bishenol A (or NBPA) solutions emerged in Japan about 20 years ago. Valspar was an early investor in NBPA solutions. It's currently the market leader in NBPA solutions in North America and Europe. Most of its NBPA coatings are in the metal packaging market. The company has 38 patents associated with non-BPA.
Valspar's competitive strengths
Valspar uses internal resin technology and employs more than 1,000 technologists to develop coating and paint solutions. The company has more than 800 technical employees who work in customer service and help the company maximize sales and customer productivity.
Article continues below advertisement
Strong financial performance
Valspar's Coatings and Paints segments registered a CAGR (compound annual growth rate) of 9% and 11%, respectively, between 2010 and 2014. The company generates healthy cash balances and generated about $400 million of operating cash flow in 2014.
The company also actively invests in growth and improves returns to shareholders. For instance, between 2010 and 2014, Valspar deployed 53% of its cash reserves for share repurchases and 14% for paying dividends. The company has a 36-year history of increasing dividends.
Iridian Asset Management's 13G positions
According to its 13G filing, Iridian Asset Management didn't initiate any new positions.
The fund increased its holdings in the following companies:
A significant aspect of the fund's 13G filings is that Iridian Asset Management dropped the following two key positions:
We'll cover Iridian Asset Management's position in W.R. Grace and Company (GRA) in the next part of this series.