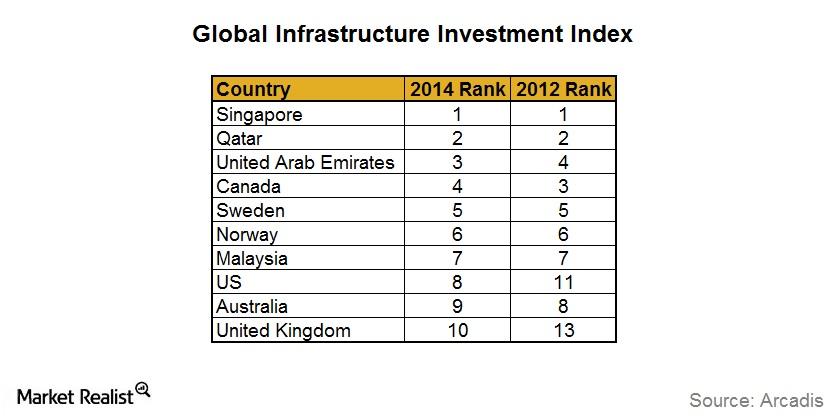 Infrastructure investment is crucial for the G20 countries
By David Ashworth

Nov. 20 2020, Updated 11:52 a.m. ET
Infrastructure investment
The IMF (International Monetary Fund) linked fiscal policy consolidation with infrastructure investment. It said that for countries like the US and Germany, where investment processes are efficient, fiscal policy consolidation should be paced to enhance infrastructure investment to bridge economic output gaps.
In contrast, for emerging countries—like Brazil, India, and South Africa—investing in infrastructure is crucial to ease supply bottlenecks. These economies can use the crude oil price fall (USO) (OIH) to shore up their finances. They can use the money to invest in infrastructure projects.
In October 2014, China, India, and 19 other countries became the founding members of the AIIB (Asian Infrastructure Investment Bank). The bank expected to become operational in 2015. It aims to support infrastructure development in Asia. It plans to reduce dependence on the World Bank and the IMF.
Article continues below advertisement
Investing in infrastructure
Arcadis US is the American arm of Arcadis NV. It's a design, engineering, and management consulting firm. It released its Global Infrastructure Investment Index for 2014. The index ranked 41 countries with "the greatest potential for growth and investment in their economic infrastructure." The report ranked the US among the top ten most attractive markets in the world for infrastructure investment. It's important to note that 2014 marked the first time that the US entered the top ten list.
A boost in infrastructure projects will mean good business for companies like Caterpillar (CAT), United Parcel Service (UPS), and Union Pacific (UNP). It will also benefit ETFs like the SPDR Industrial Select Sector Fund (XLI). XLI invests in these companies.
G20 action
The G20 leaders decided to set up a yet-to-be-operational Global Infrastructure Hub in 2014. The Hub is based in Sydney. It aims to "support public and private investment in quality infrastructure." The B20 is an engagement group of the G20. It estimated that the Hub may "unlock an additional $2 trillion in global infrastructure capacity by 2030."
The G20 also decided to promote new financial models "including transparent asset-based financing structures."
It remains to be seen how successful the group is in structuring and implementing these ideas going forward.
For the latest updates, visit Market Realist's Global Equity ETFs page.