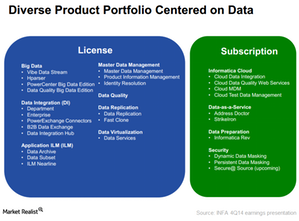 Informatica: A market leader in data integration and data quality
Informatica's platform and products built on Vibe architecture
As seen in the first part of this series, Informatica (INFA) is an independent provider of data integration software and services. Activist hedge fund Elliott Management has taken an activist stake in the company. In this series, we'll review Informatica's product portfolio.
Informatica's solutions enable enterprise-wide data integration initiatives using technologies such as
data integration
data quality
information lifecycle management
data exchange
master data management
Its platform and products have been built on the Informatica Vibe architecture. Vibe is an "embeddable virtual data machine" that allows data integration developers to graphically design data integration mappings once, then deploy those mappings anywhere—to traditional data movement platforms or on the open-source software framework, Hadoop. This can help avoid costly and time-consuming hand coding, recoding, or redevelopment with the evolution of data technologies.
Article continues below advertisement
Informatica and enterprise data integration
These are among Informatica's enterprise data integration family of products:
Informatica PowerCenter
Informatica PowerExchange
Informatica Data Integration Hub
It also offers Informatica PowerCenter Express, an entry-level data integration and profiling edition for departments or small-to-mid-market business. Its Informatica Cloud Data Integration provides easy-to-use cloud data integration applications and integration platform as a service.
In July, Gartner ranked Informatica a leader in its 2014 Magic Quadrant for data integration tools. Informatica was pitted against other vendors such as IBM (IBM), Oracle (ORCL), SAP (SAP), and SAS in the report.
Informatica has a 3.75% weighting in the the First Trust ISE Cloud Computing Index Fund (SKYY), the only ETF that invests solely in the cloud space. IBM, Oracle, and SAP make up 2.41%, 3.56%, and 3.13%, respectively, of SKYY.
Data quality and data exchange products
Informatica Data Quality products deliver data quality on site or in the cloud, using a comprehensive and unified platform. These are its data quality products:
Data Quality Standard Edition

Data Quality Advanced Edition

Data Quality Governance Edition

Address Validation Services

StrikeIron

Informatica Data Exchange products offer technology infrastructure for multi-enterprise data integration, partner management, and business-event monitoring, allowing organizations to aggregate, exchange, and share data.
In November, Informatica was ranked a leader in Gartner's Magic Quadrant for data quality tools for the eighth consecutive year. It stood alongside players such as (IBM), SAP (SAP), SAS, and Trillium Software. Gartner estimates that Informatica had 2,800 customers for these products.

The next part of this series will describe the company's information lifecycle management and master data management products.