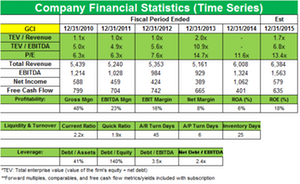 Why Carl Icahn threatened a proxy fight at Gannett
By Samantha Nielson

Feb. 11 2015, Updated 10:11 a.m. ET
Carl Icahn nominates two directors to Gannett's board
Last month, activist investor Carl Icahn put pressure on Gannett Company (GCI). He threatened a proxy fight unless the fund's concerns were resolved. Gannett is based in McLean, Virginia. It's an international media and marketing solutions company. It owns a vast network of broadcast, digital, mobile, and print products.
In a letter to Gannett's CEO, Gracia C. Martore, on January 22, Icahn said he's nominating two directors for election to Gannett's board at its 2015 annual shareholders' meeting. He also sought corporate governance changes ahead of the planned split-off of Gannett's publishing unit.
Article continues below advertisement
Gannett responded to Icahn's move by saying it was "surprised by Mr. Icahn's aggressive actions, including his threat to run a proxy contest to force wholesale changes in Gannett's corporate governance and dictate the corporate governance of a company whose governance profile has yet to be determined."
The company added that the activist investor's "overreaching campaign to advance his own agenda will not deter the board from continuing to serve the interests of its shareholders."
Icahn took activist stake in Gannett in August
Icahn revealed an activist stake in Gannett in mid-August through a 13D filing. The filing disclosed that Icahn owns a 6.63% stake in Gannett. He said the shares were undervalued. He said that more value will be created after its split into print and broadcast companies.
Icahn's stake disclosure was made after Gannett's announcement on August 5, 2014, to separate its publishing business from its broadcasting and digital businesses. Gannett plans to finalize the transaction in mid-2015.
Icahn's activist successes
In January last year, Icahn started calling for eBay (EBAY) to spin off its PayPal business. eBay's recent agreement with Icahn saw the company agreeing to PayPal's charter documents. The documents will contain a number of corporate governance provisions proposed by the activist investor. Icahn Capital's executive Jonathan Christodoro will also join eBay's board. He will help transition to PayPal's board once the spin-off takes place.
Under pressure from Icahn, Manitowoc Company (MTW) recently announced that it will split its cranes and foodservice businesses.
In the past, Apple (AAPL) and Family Dollar (FDO) have also been subject to Icahn's activist pressures.