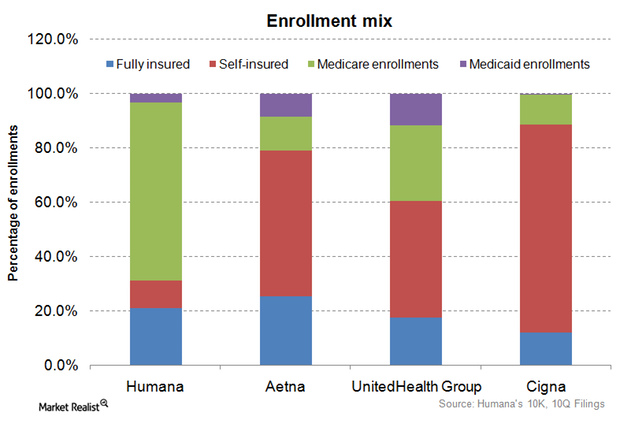 Humana's core business: The Medicare Advantage program
By Margaret Patrick

Dec. 4 2020, Updated 10:52 a.m. ET
Core business
The private health insurance industry (XLV) provides protection against unexpected medical expenses to government-sponsored, employer-sponsored, and individually insured enrollees.
The above graph shows that Humana's (HUM) total enrollment is mainly enrollments in the MA (Medicare Advantage) program, a substitute for the original Medicare program, via private insurance companies. Peers such as Aetna (AET), UnitedHealth Group (UNH), and Cigna (CI) focus more on commercial enrollments.
Article continues below advertisement
LPPO (local preferred provider organization) plans and RPPO (regional preferred provider organization) plans are subcategories of PPO (preferred provider organization) plans. While LPPOs serve counties in the managed care plan, RPPO serves one of the 26 regions defined by Medicare. In PFFS (private fee for service) plans, patients pay predetermined fees for medical services obtained from health providers.
The majority of Humana's new enrollments have been for HMO (Health Maintenance Organization) plans. This signals better future utilization management, as HMOs traditionally have been able to attract healthier customers and have low expense ratios. These qualities are due to HMOs encouraging preventive services and deterring excessive high-cost specialist services.
To learn more about the features of these managed care plans, please see Your must-read guide to health insurance managed care plans.
Article continues below advertisement
Utilization management
Better utilization management lies at the core of the MA business. The CMS (Center for Medicare and Medicaid Services) reimburses Humana for every Medicare enrollee based on the predetermined benchmark rate for a specific geography. This is also risk-adjusted for enrollees' demographic factors such as age and gender, health status, and prior medical expenses. This payment method, called the CMS-HCC (CMS Hierarchical Conditions Categories), requires that Humana actively manage the use of medical services in order to earn profits.
Humana has implemented programs such as the Chronic Care Program and Humana Vitality, a rewards program for enrollees who adopt healthy lifestyles. Humana's Chronic Care Program provides follow-up care and support to MA enrollees after their discharge from hospitals. The program has resulted in a 34% decline in hospital readmissions. The chronic care program witnessed a 50% rise in enrollees in 2014 from 2013, which is substantial compared to the company's 18% increase in MA enrollees in the same timeframe.