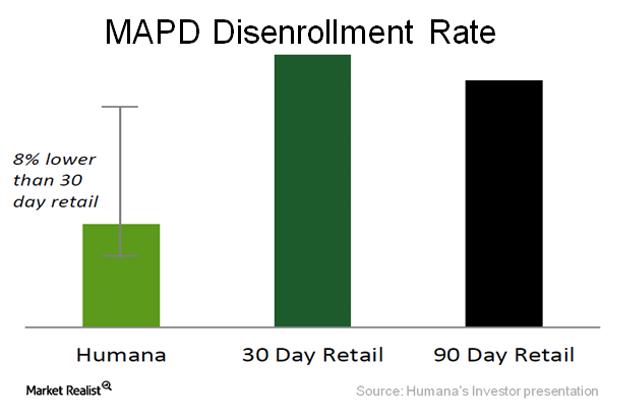 Humana rumored to be making a move with pharmacy business
Prescription drug plans
Humana's (HUM) PBM (pharmacy benefit management) business processes and pays out prescription drug claims in connection with the MA-PD (Medicare Advantage prescription drug program) and PDPs (stand-alone prescription drug programs).
To supply prescription drugs to enrollees at reduced prices, PBM contracts with retail pharmacies and negotiates discount arrangements. PBM also owns and operates mail-order or Internet pharmacies that send prescription drugs to customers via shipping companies, saving costs by eliminating human intervention.
Article continues below advertisement
Mail-order pharmacy
The above graph compares the rate at which MA-PD members disenrolled from Humana's MA-PD plan that uses mail-order pharmacy services to disenrollments from other companies' plans that use 30-day retail and 90-day retail pharmacies. A 30-day retail pharmacy gives quantity discounts for a 30-day supply of prescribed drugs, while a 90-day retail pharmacy gives larger discounts for a 90-day supply of drugs.
Humana's pharmacy business covers about 9 million people, and 6 million of those are Medicare beneficiaries. About 25% of all prescription drugs ordered under the Medicare plan involve the services of Humana's mail-order pharmacy, RightSource.
Probable deals
Humana's pharmacy management business, made up of its mail-order pharmacy and the company's network with other retail pharmacies, forms an essential part of its integrated-care delivery strategy. Humana can use the pharmacy services to control the drug-related expenses in the company's MA-PD and PDP claims.
According to Deutsche Bank Securities, Humana has about a 3% market share in the pharmacy benefit management business. The company is exploring strategic options for its PBM business, which could involve an outright sale—rumored to fetch $7 billion—or a co-sourcing deal, which would mean sharing its mail-order and retail pharmacy network with another PBM. Either way, Humana could focus its resources more on the insurance business.
There are several examples of successful co-sourcing partnerships in the health insurance industry (XLV) including Cigna (CI) and Cataraman, Aetna (AET) and CVS Caremark, and UnitedHealth Group and (UNH) Medco Health Solutions. Analysts expect that Humana will follow the Aetna–Cigna model and outsource a few pharmacy functions to other PBM businesses.