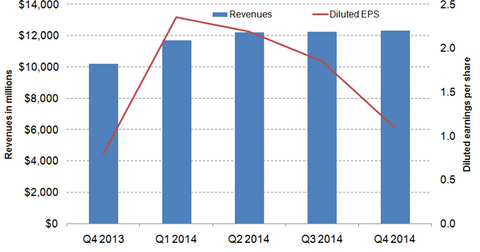 Humana's income rises 21% year-over-year in 4th-quarter 2014
By Margaret Patrick

Feb. 25 2015, Published 10:17 a.m. ET
Overview
Humana (HUM), founded in 1961 by David A. Jones, is a leading private managed care organization (XLV) in the US. For more details about how a managed care organization works, please see 2 key business models of the health insurance industry.
With headquarters in Louisville, Kentucky, the company has over 13 million customers. These comprise Medicare and Medicaid beneficiaries, Tricare beneficiaries, groups insured by employers, and private individuals seeking coverage.
Humana has a market capitalization of $22.5 billion, which is less than the market caps of its major competitors—such as UnitedHealth Group (UNH), Aetna (AET), and Cigna (CI). These companies have market caps of $102.0 billion, $32.8 billion, and $29.3 billion, respectively.
Article continues below advertisement
Fourth quarter 2014 earnings review
On February 4, 2015, Humana reported its fourth quarter 2014 financial results. The company reported revenue of $12.3 billion in the fourth quarter of 2014—an increase of 21% year-over-year. Humana also reported net income of $145.0 million in fourth-quarter 2014, which was a substantial improvement compared to the company's loss of $30 million in fourth-quarter 2013.
Operating performance
Humana reported $1.09 in adjusted, diluted EPS (earnings per share) in the fourth quarter of 2014. This was a 36 % rise from the $0.80 diluted EPS in the fourth quarter of 2013. This increase was mainly due to a decrease in the total number of shares after the company's recent share repurchases.
The company, however, failed to meet analyst expectations of $1.16 in EPS.
Despite this failure, Humana's share price continued to rise. The company approved a share buyback program worth $2 billion in September 2014. The resulting decline in outstanding shares should further increase the company's EPS.