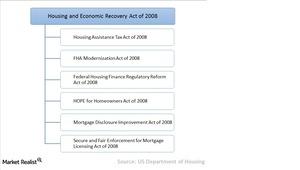 How housing regulations have shaped the market for investors
By Peter Barnes

Mar. 9 2015, Updated 7:05 a.m. ET
Strong government involvement
In most countries, housing markets feature strong government involvement, and the US is no exception. This involvement typically takes the form of direct subsidies (such as housing allowances and public housing), tax incentives (mortgage interest deduction), and market regulations (tenure protection legislation), among other policy instruments.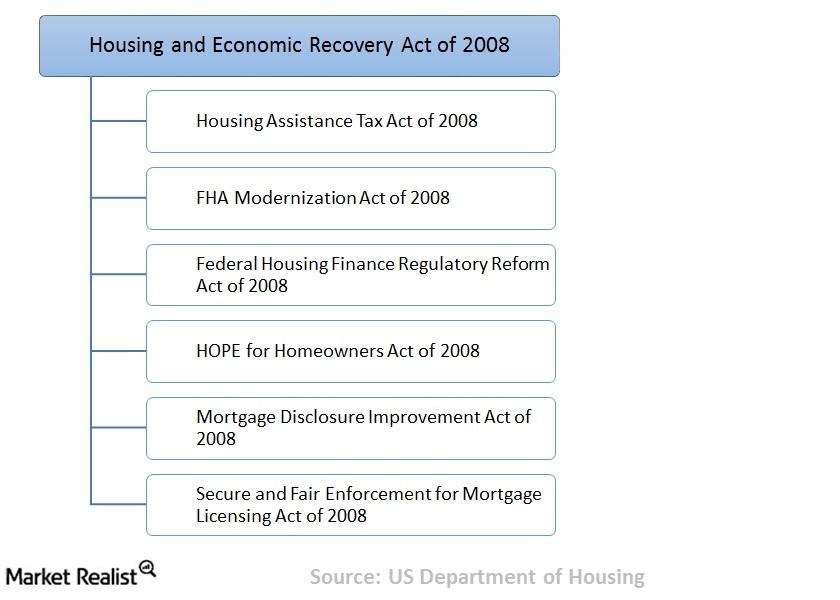 The housing bubble of 2001 to 2006 and its subsequent collapse were due to low mortgage rates, low short-term interest rates, and especially relaxed regulatory standards for mortgage loans that enabled price valuations to move up and the ultimate collapse of the housing bubble.
Article continues below advertisement
Regulatory backlash
In response to the sub-prime crisis, the government introduced a series of proposals for housing regulations. The proposals address consumer protection, banks' capital requirements, expanded regulation of the shadow banking system and its derivatives, and enhanced authority for the Federal Reserve—among others matters. Many proposals, like restricting mortgage loans, hit homebuilders hard as home sales slumped drastically. Some of the regulation introduced by the government are listed below.
The Housing and Economic Recovery Act of 2008 led to the government conservatorship of Fannie Mae and Freddie Mac.
The Housing Assistance Tax Act of 2008 phased out the credit for taxpayers with incomes over $75,000 ($150,000 for joint returns).
The FHA Modernization Act of 2008 increased the FHA loan limit from 95% to 110% of an area's median home price up to 150% of the government-sponsored enterprise conforming loan limit.
The HOPE for Homeowners Act of 2008 authorized FHA to insure up to $300 billion of 30-year fixed-rate refinance loans up to 90% of appraised value for distressed borrowers.
The Secure and Fair Enforcement for Mortgage Licensing Act of 2008 required all states to implement a mortgage loan originator licensing and registration system.
Most customers of homebuilding companies such as Lennar (LEN), Toll Brothers (TOL), and D.R. Horton (DHI) finance their home purchases through lenders providing mortgage financing. The availability of FHA and Veterans Affairs or VA mortgage financing is an important factor for housing demand. Any regulatory limitations or restrictions on the availability of financing provided adversely affect mortgage financing, which results in declining sales of new homes, as we saw during the housing crisis. Any negative effect on homebuilders means lower returns from homebuilder ETFs such as the SPDR S&P Homebuilders ETF (XHB) and the iShares US Home Construction ETF (ITB).