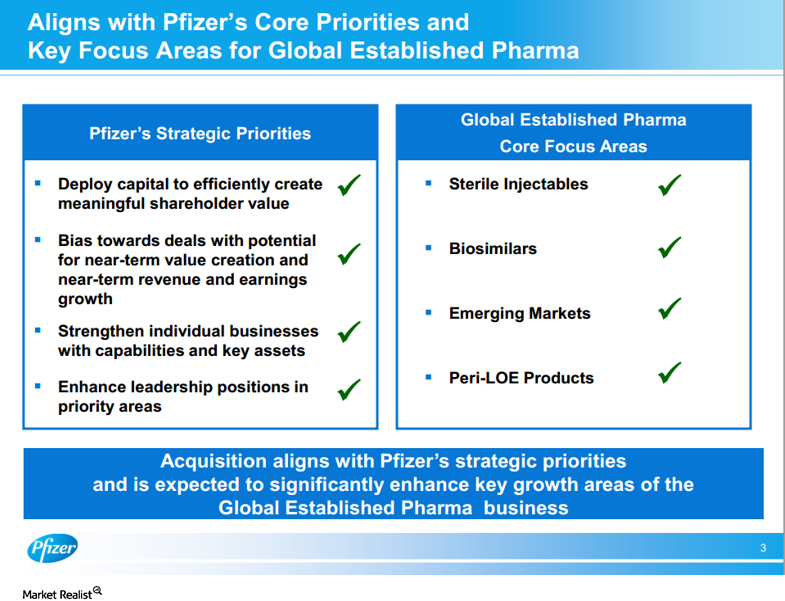 Hospira–Pfizer merger: Benefits from growing biosimilars market
Hospira's business will fit in with Pfizer's Global Established Pharmaceutical business
Hospira (HSP) is a leader in sterile injectables and biosimilar pharmaceuticals. Biosimilars are drugs that are similar to a drug whose patent has recently expired. Pfizer's (PFE) Global Established Pharmaceutical business contains Pfizer brands that have lost market exclusivity, the mature, patent-protected products that are expected to lose exclusivity, and generic pharmaceuticals. Pfizer's biosimilar portfolio would be included in this category as well.
Sterile injectables and biosimilars are high-growth areas, and the addressable market for both products is expected to reach $90 billion by 2020.
Article continues below advertisement
Pfizer management speaks to the transaction
"The proposed acquisition of Hospira demonstrates our commitment to prudently deploy capital to create shareholder value and deliver incremental revenue and EPS growth in the near-term," said Ian Read, Chairman and Chief Executive Officer, Pfizer. "In addition, Hospira's business aligns well with our new commercial structure and is an excellent strategic fit for our Global Established Pharmaceutical business, which will benefit from a significantly enhanced product portfolio in growing markets. Coupled with Pfizer's global reach, Hospira is expected to drive greater sustainability for our Global Established Pharmaceutical business over the long term."
Cost savings and synergies
While one of the major drivers for the Hospira–Pfizer transaction is the expected growth of the sterile injectables and biosimilar markets, there are also synergistic benefits to it. Pfizer expects to achieve $800 million in annual cost savings by 2018 and expects the transaction to contribute immediately to earnings upon closing. The company expects to see a contribution of approximately $0.10–$0.12 per share in the first full year after closing, and more from additional synergies later on.
Other merger arbitrage information