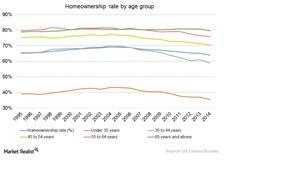 Why the homeownership rate is so important for investors
By Peter Barnes

Updated
What is the homeownership rate?
Every quarter, the US Census Bureau publishes the homeownership rate through the "Housing Vacancy Survey." The homeownership rate is the percentage of homes occupied by their owners. It's important to understand this rate, as it gives you a sense of direction for the homebuilding market.
The chart above shows that the homeownership rate has fallen to the lowest level in the past two decades. In 1995, the homeownership rate stood at 65.1%, peaking to 69.2% in 2004 and 69% in 2005. This was exactly the period when the housing bubble started to burst, as home prices in many markets went far ahead of their fundamentals. Since 2006, this rate witnessed a free-fall, aided by the recession. The impact of the recession on the housing market was so high that, despite the improvement in the economy, the homeownership rate nosedived to its lowest in 2014 at 64%.
Article continues below advertisement
The young generation is lying low
The young generation is an important segment of the homebuilding market, as this generation comprises voracious buyers during boom time. However, an analysis of homeownership rates by age for 2014 shows that the homeownership rate was the highest, at 79.5%, for homeowners aged above 65 years. For owners under 35 years, the rate was the lowest, at 35.3% compared to 41.3% in the first quarter of 2008.
The reason behind the drop in the homeownership rate of the young population is obvious. A higher unemployment rate and a high level of debt discouraged this group from entering the housing market. So they're less likely to buy a home at this uncertain stage.
However, an important point to note here is that this young generation is expected to be among the most aggressive buyers once job growth rebounds in full. This outlook is good for major homebuilders, such as PulteGroup (PHM), Lennar (LEN), and D.R. Horton (DHI) and also to homebuilder ETFs such as the SPDR S&P Homebuilders ETF (XHB) and the iShares Dow Jones US Home Construction Index Fund (ITB).