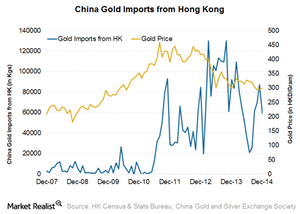 Higher prices, anti-graft drive sour China's taste for gold
By Anuradha Garg

Updated
China's importance in the gold market
In 2013, China became the world's largest gold market. It accounts for about a third of global gold demand. The World Gold Council, or WGC, expects demand from China to grow by at least another 20% by 2017.
Because of China's sheer size, investors need to monitor physical gold demand trends in China. These impact overall gold demand and gold prices. Learn more about the fundamentals that are driving demand for gold in China.
Article continues below advertisement
Imports 32% lower year-over-year in 2014
China doesn't publish gold import or export data. As a result, we'll rely on data from Hong Kong's gold exports to China. The Hong Kong Census and Statistics Department releases data every month.
Net imports from Hong Kong by mainland China were 750.8 metric tons in 2014. That's down from 1,108.8 tons in 2013. Imports in December 2014 fell 36% year-over-year. They totaled 58.8 tons in December 2014 as compared to 91.9 tons in December 2013.
This is mainly because depressed gold prices in 2013 had led to physical-gold buying in China and India. Also, demand has been hurt by the government's anti-graft drive. The fall in imports was "expected as we see a slowdown in jewelry and luxury products sales in mainland China amid the central government's anti-graft campaign," said Helen Lau, a Hong Kong-based analyst with Argonaut Securities Asia.
Article continues below advertisement
Physical buying and gold prices
Strong physical demand from the world's largest consumer buoys the price of gold. Physical buying by China and India came to the rescue of falling gold prices in 2013, when ETFs were on a selling spree. Physical buying is not providing as much support as last year, but when prices fall substantially, these purchases do boost gold prices as well as gold-backed ETFs such as the SPDR Gold Trust (GLD).
As noted previously in our series on gold, there are other factors affecting gold demand that are more important right now for gold stocks such as Goldcorp (GG), Barrick Gold (ABX), Newmont Mining (NEM), Kinross Gold (KGC), and Yamana Gold (AUY), as well as ETFs such as the VanEck Vectors Gold Miners ETF (GDX). GDX invests in senior and intermediate gold producers. The companies mentioned here form 39.1% of its total holdings.