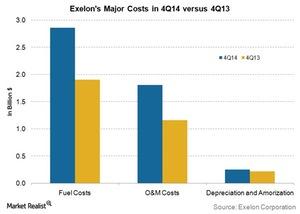 Higher costs dwarfed Exelon's earnings in 4Q14
By Matt Phillips

Updated
Costs impact Exelon's earnings
Although Exelon Corporation (EXC) saw impressive revenue growth in 4Q14, its earnings contracted. This is due to a higher cost of operations for the quarter. In 4Q14, operating costs jumped by as much as 48.8%—compared to the same quarter last year.
Let's look at Exelon's major cost drivers for the quarter in more detail.
Article continues below advertisement
Major cost heads
Fuel cost is the major cost consideration for all power producers. In 4Q14, nearly 57% of Exelon's total costs were part of fuel costs. In 4Q14, Exelon's fuel cost increased by almost 50% to $2.9 billion from a year ago. The fuel cost for 4Q13 was $1.9 billion.
Apart from fuel costs, Exelon's major operating expenses are operations and maintenance, or O&M, and depreciation costs. As noted in the above chart, both O&M and depreciation cost increased significantly in 4Q14—compared to 4Q13. For the quarter, O&M costs increased by 55.8%. Depreciation costs were up 15.9% on a year-over-year, or YoY, basis. In 4Q14, 35.9% of Exelon's total operating cost was O&M costs. Depreciation for the quarter was $0.3 billion—or 4.9% of total expenses.
Among the companies that are part of the Utilities Select Sector SPDR Fund (XLU), NextEra Energy Inc. (NEE), PG&E Corporation (PCG), and Center Point Energy, Inc. (CNP) have high proportions of depreciation costs in their total operating costs.
Other expenses
Apart from operational costs, Exelon's other costs include interest and income taxes. In the fourth quarter, the interest payments made were $343 million. On the income tax front, the one-time loss impairment charges helped Exelon to significantly reduce the tax burden for the quarter. Income tax expenses reduced from $311 million from 4Q13 to a tax advantage of $20 million in 4Q14.