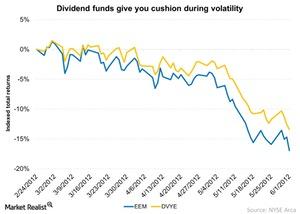 High-Dividend Emerging Market Funds Offer A Cushion
By Russ Koesterich, CFA

Nov. 20 2020, Updated 4:44 p.m. ET
One asset class that can potentially help investors take advantage of the longer-term opportunity in emerging markets while lessening near-term exposure to volatile market segments: high-dividend emerging market funds. Here are three reasons why investors should consider these funds.
Article continues below advertisement
Lower Beta:
One of the biggest sell-off in emerging markets in recent years took place in 2012. During that sell-off, an index of emerging market high dividend payers is down around 12.5%, while a broader emerging market equity index is down more than 16%. This is consistent with historical patterns as high dividend payers in both emerging and developed markets generally have been less volatile than the broader market.
Market Realist – High-dividend emerging market funds offer a cushion when you face market volatility.
The graph above compares the total returns (returns including dividends) for the iShares MSCI Emerging Markets Fund (EEM), which tracks emerging market stocks, with the iShares MSCI Emerging Market Dividend Fund (DVYE), which invests in high-dividend–paying stocks within emerging markets, for February 24, 2012, to June 1, 2012. This period saw massive sell-offs in most global markets (ACWI)(QWLD), mainly due to the escalation in the debt crisis in Europe (EZU).
EEM eroded 17.0% of investor value in that period. On the other hand, DVYE lost 13.4%. The latter is usually stabler than the former. The next part of this series explains why.
Emerging market stocks aren't compatible with investors with low risk-appetite due to their high volatility (VXX). However, you can reduce the risk by investing in high-dividend emerging market funds like DVYE. Although the returns may not be as high as what EEM offers, they give investors with low risk appetite a chance to access emerging markets. Just remember that these kinds of funds would still be more volatile than developed market funds.