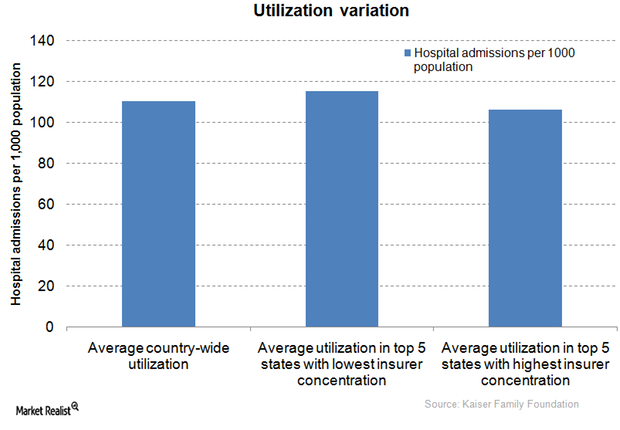 Health insurance varies by geography, affecting XLV stocks
Geographical variation
The private health insurance industry (XLV) generally focuses operations in states with lower use of medical products and services and a strong network of healthcare providers. This results in lower medical costs and higher profits for the industry.
The concentration of health insurers in a particular state also depends on the presence of entry barriers, when existing insurance players have contracts with the majority of healthcare providers and provide coverage to a substantial percentage of the total population.
Article continues below advertisement
Utilization
The graph above shows that the average utilization in states with the fewer insurers is higher than both the average countywide utilization and medical utilization in states with many insurers.
The health insurance industry earns revenues from premiums and administrative fees. The premium is the amount paid periodically by the health plan buyer to the insurance company, such as Aetna (AET), Humana (HUM), Cigna (CI), or UnitedHealth Group (UNH), for covering the enrollee's medical risk. After earning the premiums, the company pays for part of the healthcare services that the enrollee uses, depending on the plan. However, after the health plan is purchased, the premium is fixed for a calendar year. So increasing medical service utilization leads to lower profits.
Utilization depends on a state's social and demographic factors—like average age, unemployment levels, and the presence of primary care practitioners (or PCPs). Medical services tend to find more use where the number of old people or unemployment levels are high. With the latter scenario, unemployment leads to more stress-related diseases and other behavioral health problems.
Primary care practitioners
States with more PCPs have lower healthcare costs. A PCP generally charges a lower consulting fee than a specialist doctor and also uses less costly technology and procedures for treatments. A PCP also promotes preventive health measures so that patients remain healthy, reducing the use of medical services.