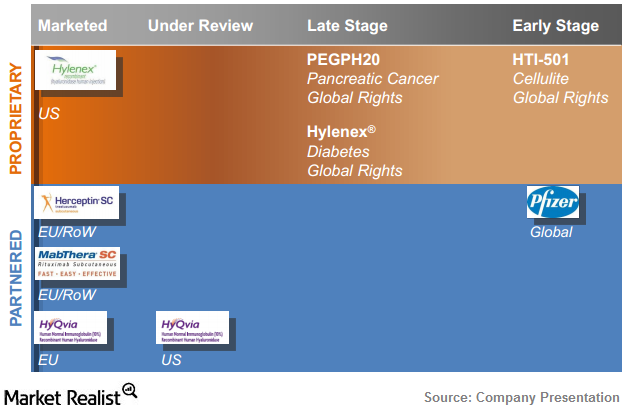 Halozyme Therapeutics gets huge 60% increase in Iridian holdings
Iridian and Halozyme Therapeutics
According to Iridian Asset Management's 13G filing in January, the fund now holds 11,625,215 shares of Halozyme Therapeutics Inc. (HALO), a huge 60% increase over its previous position of 7,262,525 shares. The 13G filing also reported that the fund holds a 9% stake in the company.
Article continues below advertisement
Halozyme Therapeutics, a young growing biopharmaceutical company
Halozyme Therapeutics Inc. (HALO) was incorporated in 2007. Its research focuses primarily on human enzymes that alter the extracellular matrix. This is an area external to the cell that provides structural support at the tissue level and orchestrates several vital biological activities such as signaling, cell migration, and survival.
Halozyme's pipeline includes several products in the clinical stage for dermatology, oncology, and diabetes. The company collaborates with Baxter, Janssen Pharmaceuticals, Pfizer, and Roche. Halozyme features a diversified and broad portfolio of products.
Halozyme partners with Janssen Biotech for subcutaneous products
Halozyme Therapeutics and Janssen Biotech have signed a worldwide collaboration and license agreement to develop and commercialize subcutaneous products through the use of ENHANZE technology. According to Helen Torley, president and chief executive officer of Halozyme, the new license agreement validates the company's ENHANZE platform technology, which could benefit a large number of patients worldwide by increasing the convenience of therapies.
Article continues below advertisement
The deal gives Halozyme an initial payment of $15 million and subsequent payments totaling $566 million when Janssen achieves specified sales, regulatory, and development milestones. The deal also permits Halozyme to receive royalty payments based on the net sales of products for which the ENHANZE technology is used.
Halozyme's PEGPH20 receives orphan status from the FDA and EMA for pancreatic cancer treatment
Certain cancers reportedly tend to accumulate a large amount of hyaluronan (or HA). Halozyme's recombinant human hyaluronidase (or rUuPH20), which the FDA (U.S. Food and Drug Administration) has already approved, tends to reversibly degrade HA to facilitate the absorption of other injected drugs.
Halozyme's PEGPH20 is an investigational form of rHuPH20 currently under development. It tends to promote an increased half-life associated with the compound. PEGPH20 received an Orphan Drug designation from the FDA in October 2014 and from the European Medicines Agency (or EMA) in December 2014 for pancreatic cancer treatment. The FDA assigns Orphan Drug status to medicines intended to be used against rare conditions. This gives pharmaceutical companies incentives such as a period of marketing exclusivity following the approval of the product.
Article continues below advertisement
Halozyme's value proposition
Now let's take a look at Halozyme's value proposition.
diversified proprietary assets pipeline

has promising clinical and preclinical data
caters to unmet medical needs

growing revenues from royalties

partnerships with Pfizer, Baxter, and Roche
royalties from top-selling commercial brands such as Herceptin subcutaneous (or SC)

healthy financial position

strong cash balance for fiscal year 2014 of approximately $165 million
cash burn for fiscal year 2014E estimated between $45 million and $55 million
Appointment of new chief medical officer
Halozyme Therapeutics recently announced the appointment of Athena Countouriotis, M.D. as the company's chief medical officer. The depth of Countouriotis's medical expertise, along with her track record of promoting the advancement of novel treatments in oncology via regulatory processes and clinical development, makes her an ideal fit for this vital role at Halozyme. Her appointment comes at a crucial juncture when Halozyme is focusing on advancing its PEGPH20 clinical program.
Iridian Asset Management's 13G positions
According to its 13G filing, Iridian Asset Management didn't initiate any new positions.
The fund increased its holdings in the following companies:
A significant aspect of the fund's 13G filings is that Iridian Asset Management dropped the following two key positions:
In the next part of this series, we'll analyze Iridian Asset Management's holdings in Theravance Inc. (THRX).