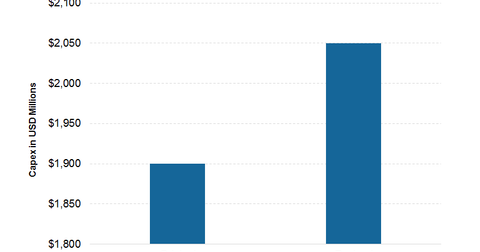 Goldcorp's Éléonore project promises strong production growth
By Anuradha Garg

Updated
Éléonore described
The Éléonore project is located in the northeast corner of the Opinaca Reservoir in the James Bay region of Québec, Canada. The Éléonore deposit is a major gold discovery in a relatively unexplored area, located at the core of what Goldcorp believes to be a promising new gold district. As of December 31, 2014, proven and probable gold reserves at Éléonore were 4.98 million ounces compared to 4.03 million ounces as of December 31, 2013.
Article continues below advertisement
First gold pour
First gold was produced from the gravity circuit on October 1, 2014. A total of 18,300 ounces were produced during the fourth quarter of 2014 from 169,800 tons milled. The average grade and recovery was 4.20 grams per ton and 88%, respectively. Gold production for the fourth quarter of 2014 represents pre-commercial production ounces.
Commercial production is now expected late in the first quarter of 2015 due to design issues during ramp-up. Gold production from Éléonore, following ramp-up to full production—currently expected to be the first half of 2018—is expected to be between 500,000 and 600,000 ounces per year.
Drilling in 2015 will continue to target structures in the lower mine and the southern portion of the ore body to transfer resources to reserves.
Capex estimate
The initial project capital estimate at Éléonore has been revised to range between $2 billion and $2.1 billion, up from $1.9 billion. The revision is mostly because of the  approximate three-month delay in commercial production to late in 1Q 2015.
As far as production growth is concerned, projects such as Éléonore, Cerro Negro, and Cochenour give Goldcorp an edge over its competitors Newmont Mining (NEM) and Barrick Gold (ABX).
Keep in mind that ETFs such as the SPDR Gold Trust (GLD) and the VanEck Vectors Gold Miners Index (GDX) are also a good way to invest in gold and gold stocks. GLD tracks spot gold prices. GDX replicates the NYSE Gold Mining Index. GG and ABX make up 10.3% and 8.8% of GDX, respectively.