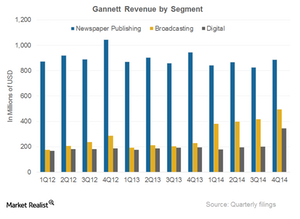 Broadcasting and Digital drove GCI's 24% revenue growth in 4Q14
By Samantha Nielson

Updated
Broadcasting and digital drove revenue growth
Gannett Company (GCI) posted robust results for 4Q14. Its adjusted earnings per share, or EPS, was up 55% to $1.02. The EPS figure beat analyst estimates. Its profit was $676 million, or $2.92 per share—compared to net income of $90.7 million, or $0.39 per share last year.
Operating revenue grew 24.3% year-over-year, or YoY, to $1.7 billion. However, it fell slightly short of the consensus. The adjusted EBITDA (earnings before interest, tax, depreciation, and amortization) grew 57% to $511 million—compared to the same period last year.
Article continues below advertisement
For full-year 2014, the total operating revenue was up 16.4% to $6.01 billion. Gannett said the revenue growth, for the quarter and the full year, was driven by the Broadcasting and Digital segments. The Broadcasting segment's revenue grew 117% due to higher political spending, retransmission revenue, and the 2013 acquisition of AH Belo Corporation (AHC). The Digital segment's revenue surged 76.6%—mainly due to the acquisition of Classified Ventures.
Publishing revenue continues to decline
The Publishing segment's revenue fell 6.2% YoY to $885.5 million. It was driven by a drop in advertising and circulation revenue. The decline in the Publishing segment reflected softer display advertising revenue. It was partially offset by an increase in digital marketing solutions' revenue and digital advertising.
Advertising revenue declined 7.8% to $543.8 million. Circulation revenue totaled $282 million—down 2.2% from the same period last year. Gannett said the circulation revenue fell at Newsquest—due to the cycling of cover price increases—and USA Today.
Article continues below advertisement
On the earnings call, management said that it "continues to face industry headwinds and operates in a challenging national advertising environment." Management noted that while domestic publishing advertising revenue fell 9%, online advertising revenue grew 5%. Management saw an increase in circulation revenue at local domestic publishing sites due to changes to pricing strategies, local USA Today content contribution, and benefits from its All Access Content Subscription Model.
Newspaper ad revenue impacted by shift to digital
In its global advertising revenue outlook last year, Magna Global said that newspaper advertising revenue fell by 9.2% to $16.4 billion. Magazine advertising revenue declined 10.9% to $10.7 billion. It added that "the shift to digital is having a deflationary impact on the entire market as digital formats, whenever comparable to traditional format, look cheaper and therefore erode the pricing power of traditional media categories."
Previously, we noted that slow growing publishing operations are being split off by media companies. Last year, Time (TIME) separated from Time Warner (TWX) and Tribune Publishing (TPUB) split off from Tribune Media Company (TRCO).
Split-offs have also been used to unlock value as seen with Graham Holdings (GHC). Recently, Graham Holdings announced the separation of its cable division. In 2013, Graham changed its name from Washington Post Co. after the sale of its flagship newspaper to Amazon's CEO Jeff Bezos.
In the next part of this series, we'll discuss Gannett's breakup.