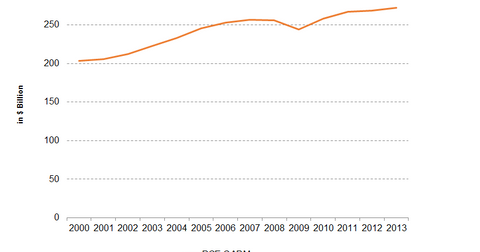 Why the future lies in e-commerce and direct sales
By Santiago Solari

Updated
Apparel industry overview
In terms of consumer spending, the US apparel market is over $270 billion in size. According to estimates by the BEA (Bureau of Economic Analysis), apparel spending will likely increase by 1.5% in 2014 to $273 billion—despite headwinds in the form of higher projected consumer spending on electronics. The headwinds leave lower disposable income for purchasing clothes.
Since spending is highly discretionary, industry demand is sensitive to economic variables and fashion trends. Apparel products tend to have a relatively short shelf life due to rapidly changing fashion trends. Also, products face seasonal demand—for example, winter clothing only has demand during the winter.
In an effort to reduce inventory pileup, companies provide discounts on their apparel products during sales at the end of the season.
Article continues below advertisement
Wholesale dominates sales channel 
In the apparel industry, companies operate under two models:
wholesale
retail or direct to consumer
Among North American apparel manufacturers—specifically Ralph Lauren (RL), VF Corp. (VFC), Michael Kors (KORS), PVH Corp. (PVH), and G-III Apparel Group (GIII)—wholesale accounts for more than half of the channel exposure. These apparel manufacturers are all part of the Consumer Discretionary SPDR ETF (XLY).
Merchandise can be sold through wholesale. It's mainly sold to mass merchants, department stores, and specialty stores. These outlets bear the risk of inventory. They have to maintain store operations. They also bear associated costs. However, they tend to earn steady profit margins compared to apparel companies. This is accomplished when there's a price markdown to clear out goods at the end of the season. They sell to the consumer at the marked down price. They recover their losses by paying lower prices for garments sold by apparel companies. As a result, the price risk is borne by the apparel company if garments are sold at lower prices.
In order to have more control of their brand's perception and to earn stable gross margins, apparel companies are shifting from the direct to consumer channel. They're opening their own retail locations and marketing products through their websites.
Stronger brands like Tommy Hilfiger, Ralph Lauren, Calvin Klein, Wrangler, and Timberland are more likely to succeed under this model. They realize the full retail price for their products instead of suffering possible markdowns at a wholesale.
E-commerce sales rise
According to Bloomberg Intelligence, online retail sales increased 16.2% sequentially to cross $78 billion in 3Q14. E-commerce continues to outpace total retail sales. It represents 9.9% of retail sales—excluding the sale of food, gasoline, and autos. In an effort to gain more control of pricing and the distribution of their brands, global apparel firms invested in e-commerce websites, like Amazon, or their own websites.
This started with many apparel companies testing the potential of this channel in North America. Now, it extended to Europe and Latin America. It's expected to reach Asian consumers by 2016.