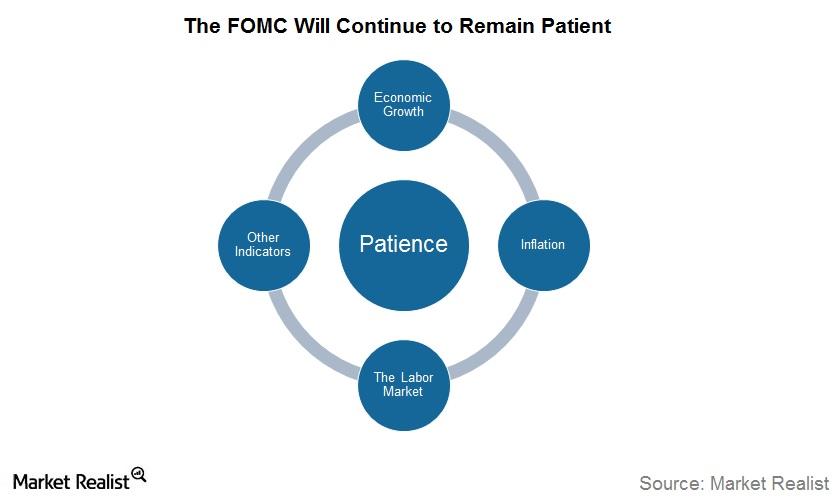 The Federal Reserve's patience: Is it here to stay?
By David Ashworth

Dec. 4 2020, Updated 10:52 a.m. ET
Patience is introduced
The Federal Reserve's FOMC (Federal Open Market Committee) first used the word "patience" to describe its guidance on monetary policy in its December 2014 meeting. You can read more about that event in our series Why the FOMC will remain "patient" in its policy moves.
"Patience" replaced the use of the phrase "considerable time." The Fed had used "considerable time" for a long period.
Article continues below advertisement
Is that a big deal?
It's a big deal. A change in the language that the FOMC uses to communicate policy guidance is keenly watched by markets, businesses, and analysts. For corporate bond issuers—like Apple (AAPL), Walmart (WMT), and General Electric (GE)—a change in the interest rate environment would change the interest demanded by bond buyers.
Even the Fed Chair, Janet Yellen, understood the importance of this change in language. She quickly added that "This new language does not represent a change in our policy intentions and is fully consistent with our previous guidance…"
The FOMC changed the language to align the timing of the rate hike with evolving economic conditions—as represented by indicator data. Even in the latest minutes, it continued to emphasize that the timing of the liftoff would depend on data.
Is "patience" staying?
The January 2015 meeting minutes showed that several policymakers weren't in favor of dropping the "patient" language. They thought that dropping this language from the statement would make the market expect a rate rise very soon.
According to market participants, if the Fed didn't time the rate hike correctly, volatility would ensue. This would be negative for equities (IVV) and Treasuries (TLT). Since the policymakers don't want to make the liftoff decision bound by time, they may continue using "patience" in their communication going forward. They may use "patience" until they feel that the economy is ready for a rate hike.
So, is the economy ready for a rate hike? We'll discuss this in the next part of this series.