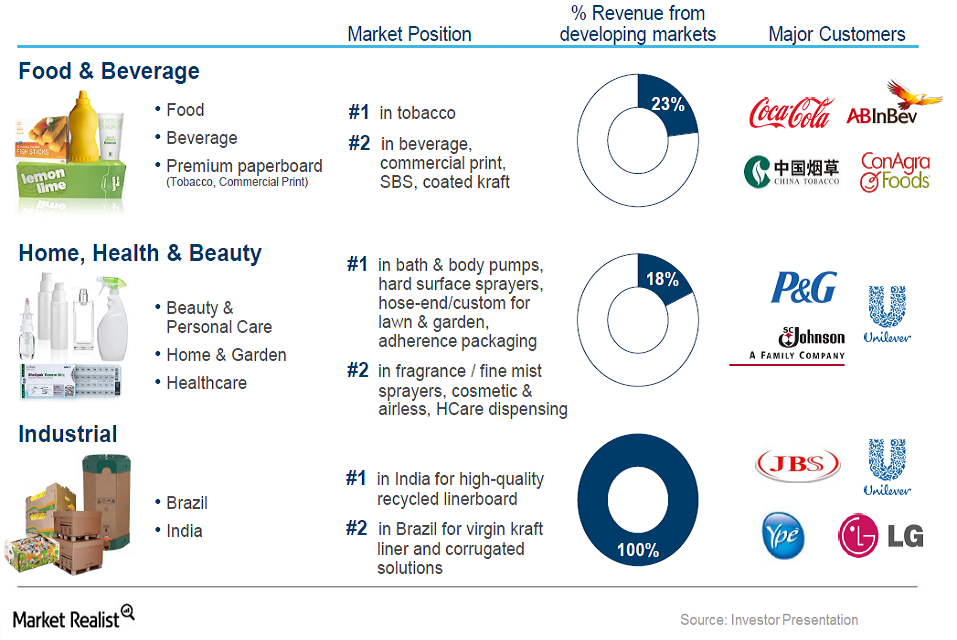 Exploring MeadWestvaco's packaging business
By Santiago Solari

Nov. 19 2019, Updated 7:10 p.m. ET
Focus on consumer packaging
As we discovered earlier in this series, the packaging business forms the backbone of MeadWestvaco's (MWV) operations, accounting for nearly 81% of its sales. MeadWestvaco's packaging operations can be broken down into three categories based on targeted end user markets:
Food & Beverage – Contributing 58% of total revenues, this segment produces high performance solid bleached boards, coated natural kraft paperboards, and carton design and converting machinery that are used by leading food, beverage, and tobacco brand owners. Its materials manufacturing mills are centered principally in the US, with conversion facilities located in North America, Europe, and Asia.
Home, Health & Beauty – Contributing 14% of total revenues, this segment, along with Food & Beverage, offers consumer packaging solutions. This segment produces pumps for fragrances, lotions, creams, and soaps, flip-top and applicator closures, trigger sprayers, aerosol actuators, hose-end sprayers, dispensing systems, adherence, and paperboard packaging, and closures for home & garden, healthcare, and beauty & personal care markets. Raw materials consisting of paperboard and plastic materials are converted into finished products at plants located in 30 countries across the world.

Article continues below advertisement
Industrial – Contributing 10% of overall revenues, this segment offers corrugated fiberboard packaging solutions that are used as protective packaging for produce, meat, bulk goods, and consumer products. Nearly 85% of the company's industrial operations are based out of Brazil, where it manufactures high-quality virgin kraftliner and recycled material fiberboards, and converts them into packaging at four box plants. The remaining portion of industrial operations is based out of India, at two mills that carry out similar operations.
Limited pricing flexibility
MeadWestvaco buys raw materials such as wood fiber from third parties. It also buys natural gas, which is used to fuel its mill and plants. While the company limits its exposure to natural gas prices by hedging, it sources nearly all of its wood fiber requirements for its US mills from third parties, and so is susceptible to variability in pricing.
Since the company typically enters into long-term contractual arrangements with its customers, it has limited flexibility in terms of passing on higher production costs to its customers.
Article continues below advertisement
Sells European tobacco carton business
On January 22, MeadWestvaco announced that it's selling its European-based tobacco carton business. The business is based in Lund, Sweden. It has annual revenue of about $190 million and makes packaging material for tobacco, chocolate, and consumer apparel. Swedish company ÅR Packaging Group AB has emerged as a potential buyer. Terms of the agreement weren't disclosed, and the transaction is expected to be completed in the next several months.
The company says it will continue to produce paperboard for global tobacco markets at its Covington, Virginia, paperboard mill.
Investors seeking to gain exposure to MeadWestvaco (MWV) and other packaging companies can consider the Vanguard Materials ETF (VAW), of which MWV makes up 1.08%. Major competitors International Paper (IP), RockTenn (RKT), Packaging Corporation Of America (PKG), and Graphic Packaging Company (GPK) form 2.77%, 1.19%, 0.97%, and 0.6% of the portfolio, respectively.