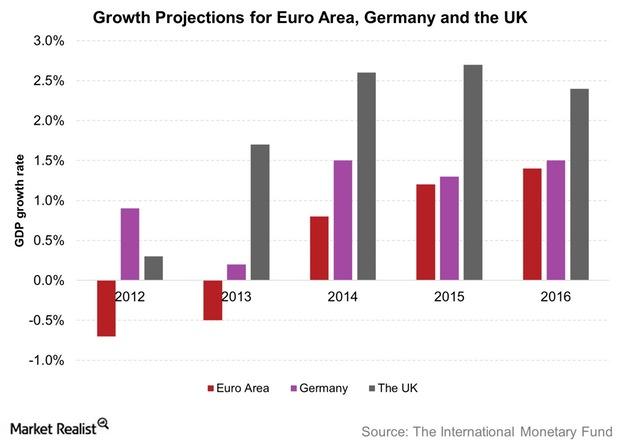 What European leaders think is best for the region
Euro area growth a concern
The International Monetary Fund (or IMF) reduced its economic growth projection for the Euro area in January 2015. The region is expected to grow by 1.2% in 2015 and by 1.4% in 2016.
Even in this weak growth, Germany (EWG) is expected to contribute significantly since the country's economic output is expected to rise by 1.3% in 2015 and 1.5% in 2016.
In comparison, the United Kingdom is expected to grow by 2.7% and 2.4% in 2015 and 2016, respectively. While this is good news for investors in the iShares MSCI UK Index Fund (EWU), which has returned a little more than 24% in the past three years, it shows Germany's concern about other Euro nations and European leaders not doing enough for their economies.
Article continues below advertisement
The Netherlands and Finland
Mark Rutte, prime minister of the Netherlands, said the nation, which was hit hard by economic crisis, applied what he called a basic recipe of fiscal consolidation, structural reforms and infrastructure spending. It's due to this that the country is enjoying modest growth.
Rutte also made an important point that Europe is susceptible to external shocks because it takes too long to implement and carry out reforms. This view was seconded by Enda Kenny, Ireland's pime minister.
Alexander Stubb, Finland's prime minister, highlighted that it is the private sector that drives economic growth and not the public sector. Admitting that Finland "did too little too late," he advocated the TTIP (Transatlantic Trade and Investment Partnership).
Transatlantic Trade and Investment Partnership
The TTIP is a proposed free trade agreement (or FTA) between the United States and the European Union. Noting that the balance of economic power is shifting toward Asia, Sigmar Gabriel, Germany's vice chancellor, said that TTIP may be "the last chance for Europe to influence standards for world trade."
The onus lies on European leaders to explain to their people why FTAs are beneficial and important. He added that though structural reforms can be painful, they're important for economic growth and need to be undertaken.
Structural reforms may hurt government finances and economic growth initially, but they benefit an economy in the medium to long term. Europe (EZU) (FEZ) (HEDJ), which desperately requires fiscal and structural reforms, will have a better economic future with them and will continue to remain in the doldrums without them.