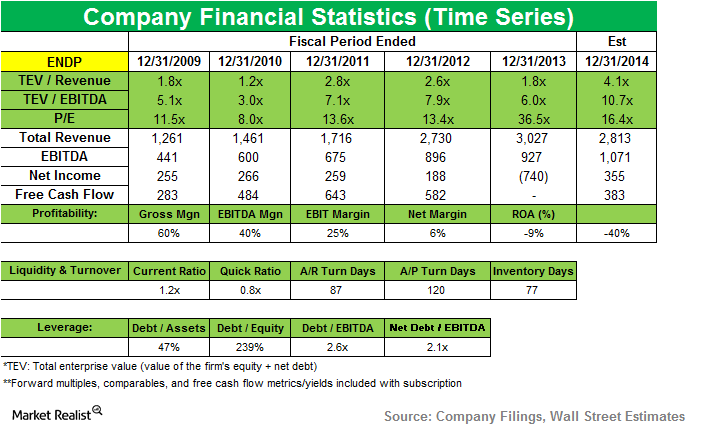 Endo International is one of Chilton Investment's new positions
Chilton Investment and Endo International
Chilton Investment Company started new positions in Sonic Corporation (SONC), Endo International plc (ENDP), Apache Corporation (APA), and Realogy Holdings Corp. (RLGY). It closed positions in FedEx Corporation (FDX) and Priceline Group Inc. (PCLN). Chilton increased position in FleetCor Technologies, Inc. (FLT) and Covidien plc (COV). It decreased positions in Wynn Resorts Ltd. (WYNN) and Timken Company (TKR).
Article continues below advertisement
Chilton Investment has invested more than $18 million in Endo International (ENDP), which now represents 0.65% of the hedge fund's total portfolio. ENDP has a 2.14% exposure to the iShares Nasdaq Biotechnology ETF (IBB). The ETF tracks the overall performance of 151 publicly traded companies in the health care sector.
Overview of Endo International
Endo International plc (ENDP) is a global specialty healthcare company focused on improving patients' lives as well as creating shareholder value. Endo was founded in 1997 and is headquartered in Dublin, Ireland. Endo develops, manufactures, markets, and distributes quality branded pharmaceutical, generic, and device products through its operating companies.
Endo International, a specialty pharmaceutical company, focuses its product portfolio mainly on pain management, urology, oncology, and endocrinology. Endo operates through the following four business segments:
U.S. Branded Pharmaceuticals (Endo Pharmaceuticals)
U.S. Generic Pharmaceuticals (Qualitest)
Devices
International Pharmaceuticals
Article continues below advertisement
ENDP declares 3Q14 results, beats estimates
ENDP's third quarter revenues came in at $764 million. This was an increase of 16% compared to 3Q13 revenues of $661 million. The increased revenue was due to growth in Endo's U.S. Generic Pharmaceuticals segment, revenues related to the February 2014 acquisition of Paladin Labs, and the acquisition of SOMAR in July 2014.
Generic product net sales of $319 million increased 74% in 3Q14 compared to 3Q13. This was due to the addition of sales from Boca Pharmacal and DAVA Pharmaceuticals.
ENDP reported a net loss of $252 million in 3Q14 compared to net income of $40 million in 3Q13. Adjusted diluted EPS (earnings per share) fell 14% to $1.15 compared to $1.34 for the same period in 2013. This was mainly due to the loss of exclusivity for the branded drug Lidoderm that treats a specific type of nerve-related pain associated with shingles.
ENDP to acquire Auxilium Pharmaceuticals
In November 2014, ENDP announced that it will be acquiring Auxilium Pharmaceuticals Inc. (AUXL) in order to gain products in the men's sector, specifically testosterone products. The deal is valued at $2.6 billion. According to the acquisition agreement, ENDP will pay $33.25 per share, and AUXL shareholders will be able to choose from a cash option, a stock option, or a combination of the two.
This acquisition will increase ENDP's product line and have a significantly positive impact on ENDP's revenues.
In the next article in this series, we'll look at Chilton Investment's new position in Apache Corporation (APA).