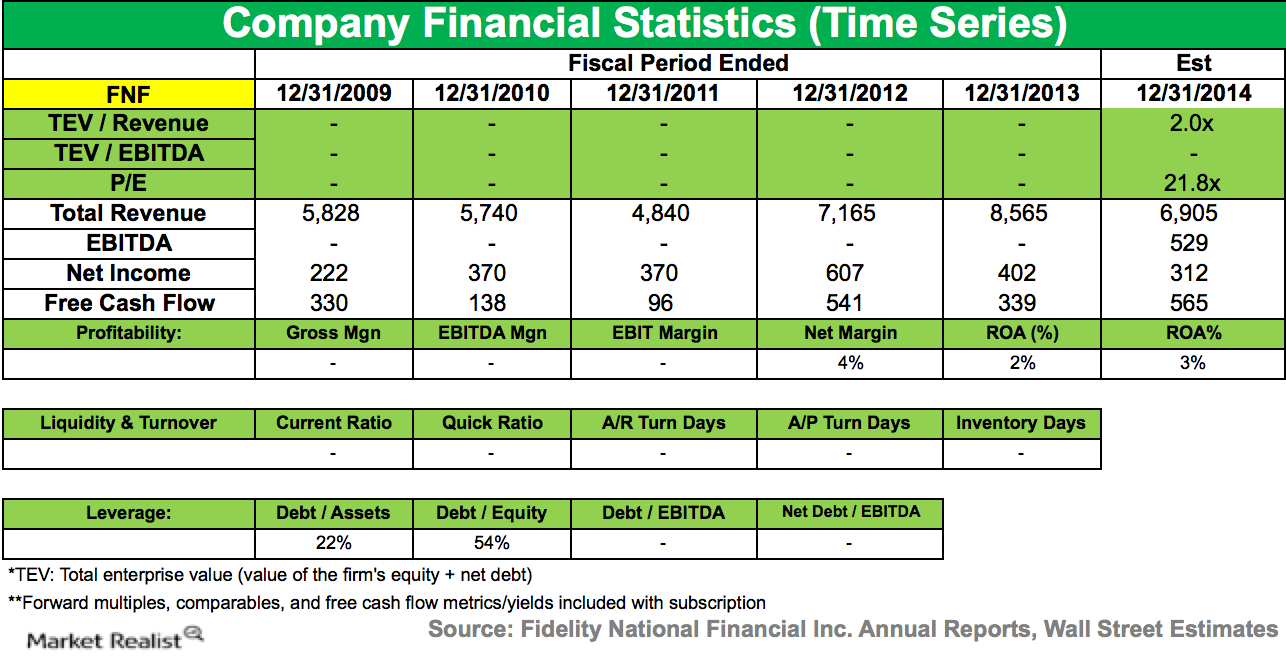 Eminence Capital lowers position in Fidelity National Financial
By Diana Key

Feb. 20 2015, Updated 10:05 a.m. ET
Eminence Capital and Fidelity National Financial
Eminence Capital lowered its position in Fidelity National Financial (FNF). A 13G filing in October 2014 noted that the fund owns 5,559,929 shares of the company. This is down from the 6,460,000 shares, the fund reported in its 3Q14 portfolio. The filing noted the fund owns a passive 6.1% stake in the company.
Article continues below advertisement
About Fidelity National Financial
Fidelity National Financial is the largest title insurance company in the US. It is also a leading provider of title insurance, escrow, and other title-related services for real estate transactions. Its business is organized into two groups, FNF Core Operations and FNF Ventures (or FNFV).
The company operates via its title insurance underwriters: Fidelity National Title, Chicago Title, Commonwealth Land Title, Alamo Title, and National Title of New York. One of the company's offerings is MSP, the largest residential mortgage servicing technology platform in the US. This is provided through its majority-owned subsidiaries, Black Knight Financial Services (or BKFS) and ServiceLink Holdings.
FNF Ventures owns majority and minority equity investment stakes in a number of entities. These equities include American Blue Ribbon Holdings, J. Alexander's, Remy International (REMY), Ceridian HCM, and Digital Insurance. J. Alexander started its initial public offering (or IPO) process in 3Q14.
Fidelity National Financial acquires BPG Holdings
In December 2014, Fidelity National Financial entered into a definitive agreement to acquire BPG Holdings, which is a recognized leader in home warranties, home inspection services, and commercial inspections.
According to Billy Jensen, president and CEO of Fidelity National Home Warranty, "The combination of BPG and Fidelity National Home Warranty will make us the largest home warranty company in California, provide a meaningful increase to our market share in Texas, and give us added scale in several other states."
Article continues below advertisement
FNF Ventures closed sale of Comdata
FNF Ventures sold Comdata to FleetCor Technologies (FLT) in a stock-for-stock transaction. FNFV received ~2.4 million shares of FLT. According to Fidelity National Financial chairman William P. Foley II, "The pending sale of Comdata for FleetCor common shares will bring an attractive investment in an innovative, industry-leading company."
Technology subsidiary Black Knight drives FNF revenue growth
Fidelity National Financial's 3Q14 results missed its estimates. Its core revenue grew to $1.7 billion in 3Q14, compared to $1.6 billion in 3Q13. The company said its core revenue growth was driven by technology subsidiary Black Knight, which saw its revenue increase by 11%, led by MSP.
Adjusted net earnings were up to $145 million from $115 million in the same period a year ago. The company posted core diluted earnings per share, or EPS, of $0.51, compared to adjusted core diluted EPS of $0.50 in the same quarter last year.
Article continues below advertisement
FNFV 3Q14 results
FNFV's total revenue was $657 million compared to $624 million in 3Q13. Diluted earnings per share (or EPS) was $0.06 versus a net loss of $0.05 in 3Q13. The company did $1.4 billion book value of portfolio company investments in the quarter.
In November 2014, FNFV announced a three-year, 10 million share repurchase program.
Eminence Capital's 13G positions