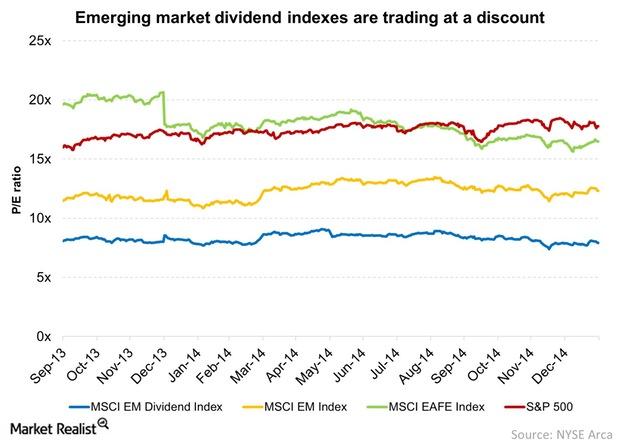 Emerging Market Dividend Payers Currently Offer Value
By Russ Koesterich, CFA

Nov. 20 2020, Updated 3:35 p.m. ET
Valuations:
Finally, high dividend payers in emerging markets generally trade at a significant discount to most global equity benchmarks. In fact, these stocks are currently trading at less than 10x earnings, a 50% discount to developed markets and cheaper than broader emerging market equity indices.
In short, emerging market high dividend funds offer an attractive balance between income and risk management at a nice valuation. Investors can access this opportunity through the iShares Emerging Markets Dividend Index Fund (DVYE).
Article continues below advertisement
Market Realist – Emerging market dividend payers are offering value, given their high volatility.
The graph above compares the PE ratios (price-to-earnings ratios) of the MSCI Emerging Markets Index (EEM), the S&P 500 index (SPY)(IVV), and the MSCI EAFE index (EFA) with the MSCI Emerging Markets Dividend Index. The PE ratio indicates how expensive a stock's price is compared to the stock's earnings. The PE ratio of the four indices is 12.3x, 17.2x, 16.5x, and 7.9x, respectively.
As you can see, the MSCI Emerging Markets Dividend Index is much cheaper compared to all other indexes, including the MSCI Emerging Markets Index. Given that market volatility (VXX) could stay elevated for some time now, and that high-dividend funds tend to be less volatile than emerging markets, these valuations appear to be a bargain.
However, keep in mind that the MSCI Emerging Markets Dividend Index has been trading at a discount to other funds for the last two years.
Read Market Realist's series Nowhere To Hide? Consider "Semi-Safe" Havens for other strategies on how to protect your portfolio during risk-off periods.