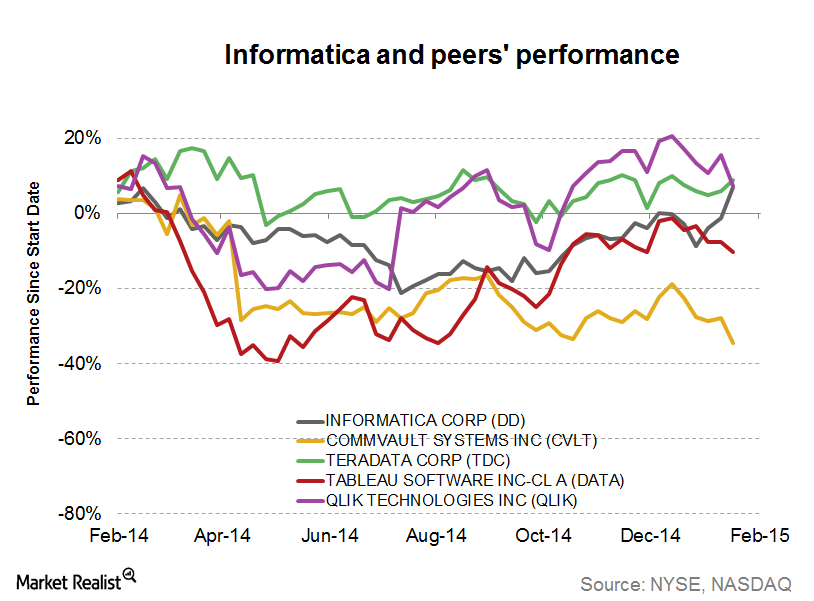 Elliott Management takes activist stake in Informatica
By Samantha Nielson

Nov. 19 2019, Updated 7:35 p.m. ET
Activist could push company to sell itself
Paul Singer's activist hedge fund, Elliott Management, recently disclosed an 8% stake in Informatica (INFA). Reports say the fund might urge the company to sell itself to a private equity firm or a software company. The stock surged 6.8% to $41.04 on news of Elliott's activist stake, bringing Informatica's market capitalization to around $4.5 billion.
According to the 13D filing, Elliott, Elliott International, and Elliott International Capital Advisors, or EICA, beneficially own 5,448,581 shares, including 2,923,300 shares underlying currently exercisable options, constituting around a 5% stake. The companies also collectively have economic exposure to about 3% of Informatica shares in accordance with derivative agreements in the form of cash-settled swaps with respect to 1,105,000 and 2,145,000 shares.
Article continues below advertisement
Based in Redwood City, California, Informatica provides data integration software and services. Its targeted markets include automotive, energy and utilities, entertainment and media, financial services, healthcare, high technology, insurance, manufacturing, public sector, retail, services, telecommunications, and travel and transportation. Financial services is its largest vertical industry sector.
Informatica believed to be in talks with buyers
A report in the Wall Street Journal by David Benoit and Gillian Tan says that Informatica has hired Qatalyst Partners to seek buyers. Elliott's 13D filing notes that the company is "significantly undervalued" and that it's been talking to the board and management about "steps to maximize shareholder value." Unconfirmed newswire reports also state that the fund believes the company has many businesses with intense competition and that it could improve its cost structure and margins.
Article continues below advertisement
Analysts believe that Elliott's activist move could be driven by the $4.3 billion sale of Informatica peer Tibco Software, which was taken private in September by Vista Equity Partners. Deutsche Bank analysts Karl Keirstead and Imtiaz Koujalgi also point to "a greater focus on cost reduction" with Elliott's involvement.
Tibco's sale boosted the shares of information management software stocks Informatica, Tableau Software (DATA), and Qlik Technologies (QLIK). As you can see in the chart above, Informatica's performance has been almost on par with DATA and QLIK. Data warehousing software maker Teradata (TDC) has outperformed Informatica. Meanwhile, data and information management company CommVault Systems (CVLT) has experienced a downtrend in recent months.
Elliott's previous technology targets
Activist hedge fund Elliott's previous technology targets include companies such as Juniper Networks (JNPR), Riverbed Technology, Emulex, Compuware, Brocade Brocade Communications Systems (BRCD), and NetApp (NTAP). Another activist target last year was EMC Corporation (EMC), which Elliott pushed to separate from VMWare.
The next part of this series offers a brief overview of Informatica.