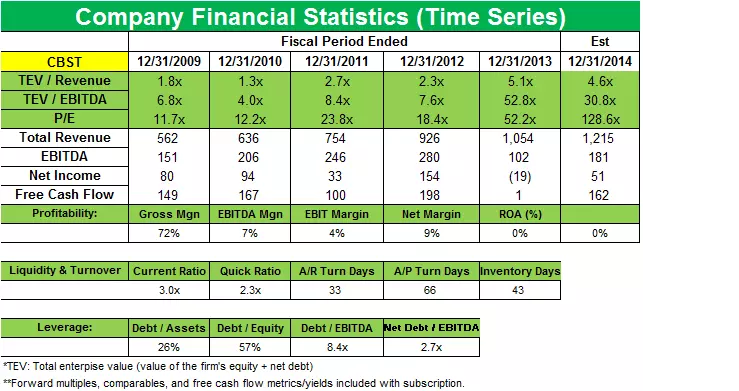 Elliott Management starts new position in Cubist Pharmaceuticals
By Adam Rogers

Mar. 2 2015, Updated 6:05 p.m. ET
Elliott Management and Cubist Pharmaceuticals
Elliott Management has started a new position in Cubist Pharmaceuticals (CBST). The investment represents 0.57% of the overall hedge fund portfolio. The fund bought shares worth $54 million according to its latest 13F filings for 4Q14.
Cubist competitor Teva Pharmaceuticals is listed on the Vanguard FTSE All-World ex-US ETF (VEU), making up 0.23% of the ETF.
Article continues below advertisement
Overview of Cubist
Cubist is a bio-pharmaceutical company focused on the research, development, and commercialization of pharmaceutical products that address unmet medical needs in the acute-care environment. Its products and product candidates are used, or are being developed to be used, in hospitals and other acute-care settings, including home infusion and hospital outpatient clinics.
The company has grown its pipeline via acquisitions. In 2013, Cubist acquired Trius Therapeutics and obtained rights to the late-stage product candidate, tedizolid phosphate.
FDA approves CBST drug, will aid in $100 trillion global fight
In Decemeber 2014, the FDA (US Food and Drug Administration) approved the latest antibiotic launched by CBST, which is seen as a step toward combattting a problem that could kill an estimated 10 million people globally by the year 2050. The US regulators approved the drug named "Zerbaxa," also known by the generic name of ceftolozane/tazobactam. It will now be used to treat adults suffering from urinary tract infections as well as intra-abdominal infections.
Zerbaxa is widely expected to be the company's next blockbuster drug, bringing in annual revenues of approximately $1.5 billion. The demand for this drug is expected to be high because it will cost over $100 trillion to fight the above-mentioned infections across the world by 2050.
Article continues below advertisement
Merck to acquire Cubist Pharmaceuticals for $9.5 billion
In December 2014, Merck (MRK) announced that it would be acquiring Cubist Pharmaceuticals for $102 per share in cash, a 35% premium over CBST's stock price. The acquisition deal, estimated to be valued at $9.5 billion, was unanimously approved by the boards of directors of both companies. The deal also includes $1.1 billion of debt.
The CEO of Merck, Kenneth C. Frazier, said, "Cubist is a global leader in antibiotics and has built a strong portfolio of both marketed and late-stage pipeline medicines. Combining this expertise with Merck's strong capabilities and global reach will enable us to create a stronger position in hospital acute care while addressing critical areas of unmet medical need, such as antibiotic resistance."
CBST faces competition for Cubicin
Cubist Pharmaceuticals' most popular drug yet, Cubicin, faces competition from rival Abbot Laboratories (ABT) and its drug, Vancomycin. Vancomycin currently has 70% of the market share and is Cubicin's primary competitor. Other drugs that compete with CBST's Cubicin are Pfizer's (PFE) Zyvox and Forest Laboratories' (FRX) Teflaro.