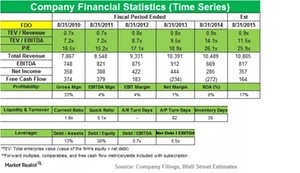 Elliott Management increases position in Family Dollar Stores
By Adam Rogers

Updated
Elliott Management and Family Dollar Stores
Elliott Management has increased its position in Family Dollar Stores (FDO) by over $386 million. It represents 6.69% of the total portfolio in 4Q14, up from 2.90% in the third quarter.
FDO makes up 0.08% of the SPDR S&P 500 ETF Trust (SPY) and 0.32% of the Consumer Discretionary Select Sector SPDR Fund (XLY). SPY tracks the overall performance of 500 publicly traded companies in the growth sector. XLY tracks the overall performance of 87 publicly traded companies in the consumer sector.
Article continues below advertisement
Overview of Family Dollar Stores
Family Dollar Stores (FDO) operates a chain of more than 8,100 stores in 46 states. It sells all of its products for less than $10. The company invests more than $50 million annually to lower the prices of nearly 1,000 stock keeping units, or SKUs, to be more competitive in the discount retailing market. It introduced tobacco in its stores and is planning a multiyear rollout of beer and wine in 2015.
Shareholders approve FDO merger with Dollar Tree
In January 2015, it was announced that based on a preliminary count of votes that were cast at FDO's "special meeting of shareholders," the proposed merger with Dollar Tree (DLTR) was approved. Approximately 84 million shares voted in favor of the merger, representing 74% of the total outstanding shares.
The management at FDO stated, "The Family Dollar Board of Directors and management team have worked diligently to advance the best interests of all of the Company's stockholders, and we are grateful for the support we received for the merger proposal. We are also very appreciative of Family Dollar's talented and committed Team Members, who have remained focused on serving our customers throughout this process. We look forward to completing the transaction with Dollar Tree and remain excited about the opportunity that this combination will create for our stockholders, Team Members, customers and other stakeholders."
Though FDO and DLTR agreed to merge, another retailer, Dollar General (DG), also made a bid for Family Dollar Stores. Dollar General made a hostile takeover bid of $80 per share, but the deal was not accepted by the board of FDO, which recognized that such a deal would raise antitrust concerns.
Article continues below advertisement
FDO announces 1Q15 results, misses estimates
In January 2015, FDO announced its results for 1Q15. The firm reported that net income per diluted share in the quarter ended November 29, 2014, was $0.36. In comparison, net income per diluted share was $0.68 in the first quarter of fiscal 2014, ended November 30, 2013.
Net sales in 1Q15 increased 2.3% to $2.56 billion, up from $2.50 billion in 1Q14. Comparable store sales for the 13-week period decreased 0.4% as a result of slight decreases in both the average customer transaction value and the number of customer transactions.
Howard R. Levine, Chairman and CEO of FDO, said, "As expected, the first quarter of fiscal 2015 was very challenging, as we continued our transition from a very promotional merchandising strategy to a more everyday low price strategy. During the quarter, gross margin continued to be pressured by the impact of our pricing investments, as well as strong growth of lower-margin consumable categories, including food and tobacco. Our team did a good job of controlling expenses; however, ongoing topline challenges and continued margin pressures impacted our net profitability."