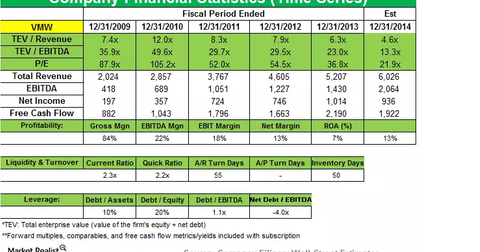 Elliott Management exits position in VMware
By Adam Rogers

Updated
Elliott Management and VMware
Elliott Management has exited its position in VMware (VMW). The investment represented 1.34% of the overall hedge fund portfolio in 3Q14. The fund sold shares worth $117 million according to the latest 13F filings for 4Q14.
VMware makes up 0.07% of the iShares Russell 1000 Growth ETF (IWF). The ETF tracks the overall performance of 681 publicly traded companies in the growth sector.
The hedge fund also sold off positions in other technology companies including Cisco Systems (CSCO) and Compuware (CPWR). Meanwhile, Elliott Management started a new position in the Technology Select Sector SPDR Fund (XLK), which has over 73 publicly listed stocks from the technology sector.
Article continues below advertisement
Overview of VMware
VMware provides virtualization infrastructure solutions. It develops products for software-defined data centers, end-user computing, and hybrid cloud computing areas. In 2004, storage giant EMC acquired VMware, which soon became the leader in virtualization infrastructure solutions.
By employing VMware's software, computers can run different operating systems. This gives EMC an edge over its peers, including Oracle (ORCL), Cisco Systems (CSCO), and IBM (IBM).
VMware teams up with partners in the Mobile Cloud Era segment
In February 2015, VMW announced programs for the VMware Partner Network. This is where partners from around the world will be attending a VMware partner exchange this year to learn about the latest "VMware software-defined data center and end-user computing and hybrid cloud solutions."
The senior vice president at VMware, Dave O'Callaghan, said, "As companies face new challenges in this liquid business environment, the ability to deliver dynamic services offers new and exciting opportunities for our partners. At Partner Exchange, we look forward to closely engaging with our partners to capitalize on these new opportunities in this services-centric world."
Article continues below advertisement
VMware partners with Google on enterprise cloud product
Last month VMware announced a collaboration with Google to improve on its cloud services for enterprise customers. According to the agreement, VMware will integrate the Google Cloud platform with VMW's Cloud Air. The product is expected to be available by late 2015.
Google and Apple (AAPL) compete for market share in the enterprise space.
VMW announces 3Q14 results, net income drops
VMware announced its 3Q14 results in November 2014. Revenues were $1,515 million compared to $1,289 million in 3Q13, which shows growth of over 18%. Net income for the quarter, however, was $194 million, or $0.45 per diluted share, down 26% per diluted share. Net income was $261 million in 3Q13.
Pat Gelsinger, CEO of VMware, said, "In every region of the world, customers are making a long-term bet on VMware to help them transform their businesses and embrace a new model for IT. Customers are looking to VMware for technology choices that liberate them from the constraints of hardware, and which offer a new model for security, optimized for a world of millions of applications."