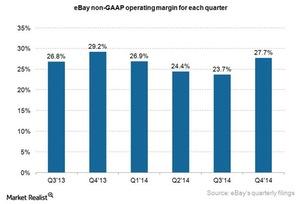 Why did eBay's operating margins continue to decline in 4Q14?
By Patricia Garner

Nov. 20 2020, Updated 12:16 p.m. ET
eBay's operating margins declined by 1.5% in fourth quarter
eBay Inc's (EBAY) operating margins continue to decline in 4Q14. As the chart below shows, eBay's non-GAAP (generally accepted accounting principles) operating margins declined from 29.2% in 4Q13 to 27.7% in 4Q14.
The company cited a number of reasons for the continued decline. In May 2014, eBay experienced a major cyberattack. Because of the attack, eBay had to force its users to change their passwords, which cost the company traffic. eBay also experienced lower traffic on its site because of a change in SEO (search engine optimization) by Google (GOOG).
eBay still hasn't recovered from the impact of these events.
Article continues below advertisement
Other reasons for the decline in operating margins
Due to the reasons mentioned above, eBay had to step up targeted marketing efforts to reengage users. The company also had to increase customer service to address customers' pain points. Increased marketing contributed to the decline in the company's operating margins in 4Q14.
StubHub also continued to suffer from lower take rates, which contributed to the company's lower margins in the fourth quarter. StubHub is a platform on which people can buy or sell tickets related to events such as concerts, sports, theaters, and Broadway. eBay acquired StubHub for $310 million in 2007. Market Realist discussed why StubHub's take rate declined in its article Why eBay expects low revenue and margin growth for StubHub.
eBay's margins also declined because of eBay Enterprise's performance. The increased cost to prepare for the holiday season was blamed for the decline. Learn more about this segment by reading Why eBay Enterprise wants Hayman to drive its revenue growth.
eBay isn't the only e-commerce company to report declining margins. Alibaba Group Holding Ltd. (BABA) also reported a decline in operating margins in the fourth quarter. Its operating margins declined from 47% in 4Q13 to 36% in 4Q14. Amazon's (AMZN) operating margin was relatively flat at 2% in 4Q14.
Investors can consider ETFs such as the Dow Jones Internet Index Fund (FDN) for portfolio exposure to eBay. This ETF has about 5.3% of its portfolio invested in eBay.