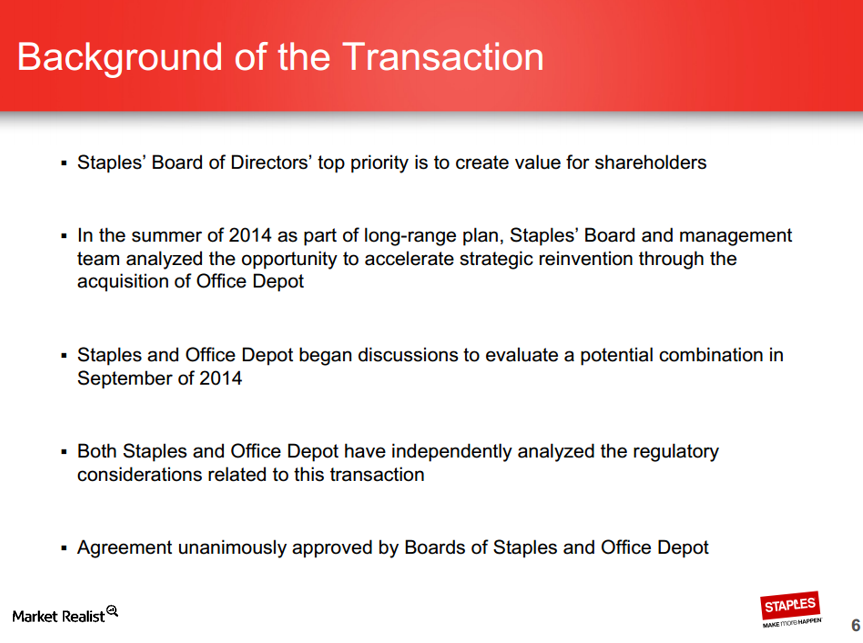 Don't trade the Office Depot spread like a typical arb spread
By Brent Nyitray, CFA, MBA

Feb. 25 2015, Updated 4:05 p.m. ET
The annualized return is probably about right
In the Office Depot (ODP)–Staples (SPLS) transaction, you're getting about a 15.5% annualized yield. That's probably a reasonable return in such a low-interest-rate environment. Back during the glory days of risk arbitrage (mid to late 1990s, a 15.5% return was typical for safe deals—times have changed)
The risk-to-reward ratio is probably about right for a deal with major antitrust issues. The companies clearly expect a second request. Arbitrageurs will probably discuss the path to approval with an antitrust attorney. The big question is whether it is even fixable. It might not be.
Article continues below advertisement
Should you set up the spread?
As a general rule, deals with antitrust issues generally widen out after a second request is issued. If you were setting it up, keep some powder dry.
As a rule of thumb, safe deals trade on annualized returns. Risky deals trade on risk-reward. This means that you set up safe deals and hold them, only unwinding them once the return is unattractive relative to cash or other spreads. Deals like this one tend to find their level (here it is a 2:1 risk-reward).
Arbs will probably look to set it up at a 1:1 spread and take it off at a 3:1 spread. Note that this will be subject to headline risk as well. Staples has had some unwanted press lately regarding part-time employees and the Affordable Care Act, finding itself in the President's spotlight. This can only be bad for the approval process.
Make no mistake—the chance of this getting antitrust approval is probably not that great. That said, there is always the possibility of another suitor (say, a private equity fund) who might find the assets attractive. They won't compete with Staples on price—they can't since they won't be able to extract synergies—but they may step in if the deal gets blocked.
Article continues below advertisement
Once the proxy comes out, check out the background on the transaction, and see if they ran an auction. If not, then there is the possibility a private equity buyer could step in after the deal breaks. In fact, that may be the trade—buy ODP after the deal breaks and arbs are forced sellers. You might get a pleasant surprise.
Other merger arbitrage resources