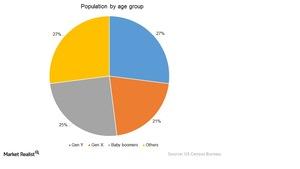 Why demographic trends are so important to homebuilders
By Peter Barnes

Updated
Buyer profile
Buyers purchase homes for variety of reasons, and the main influence on their buying decisions is their stage in life. Gen Y or young couples tend to buy affordable and smaller homes, Gen X or families tend to buy the biggest home they can afford, and Baby Boomers often look for a smaller, more finished home.
While these are broad generalizations, demographic trends do suggest which type of home a buyer of a specific generation will choose. Looking at current demographic trends and understanding who's in the marketplace can help investors comprehend demand drivers in the market.
Article continues below advertisement
Baby Boomers
People born between 1946 and 1964 are often known as Baby Boomers. They represent around 25% of the US population. The late Boomers (those born between 1956 and 1964) are in the mature and peak family phase of life for purchasing a second home, and they often consider their future plans when making that purchase.
Generation X
Normally, people born between 1965 and 1980 are called Gen X. They represent around 21% of the US population. They're currently in the stage of life where they move often, and therefore they currently have a large impact on the homebuilding industry. Approximately 50% of this generation lives in the suburbs, and the overwhelming majority of them prefer a single-family detached home. Affluent people in this group are more likely to be in the market for a second home than those over the age of 50.
Article continues below advertisement
Generation Y
People born between 1981 and 2000 are known as Gen Y or Millennials. They represent around 27% of the US population. Given their age, Gen Y represents first-time homebuyers, many renters, and student housing consumers and includes many young people still living with their parents—especially given the current recession. As their income increases, they aspire to live in single-family detached homes in cities.
Most homebuilding companies—like Lennar (LEN), D.R. Horton (DHI), and PulteGroup (PHM)—focus on a particular segment of the population. KB Home offers a variety of new homes designed primarily for first-time homebuyers, while Standard Pacific focuses on building family-oriented communities. While you want exposure to these stocks, ETFs such as the SPDR S&P Homebuilders ETF (XHB) and US Home Construction ETF (ITB) are another targeted option.