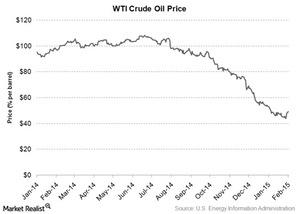 Declining commodity prices drag the loonie down
By Surbhi Jain

Dec. 4 2020, Updated 10:52 a.m. ET
Declining commodity prices affect Canada in a big way
Commodities form the backbone of the Canadian economy. Canada contains a wealth of untapped natural resources. In northern Canada alone, $100 billion is being poured into diamond mines, uranium exploration, new gas wells, and pipeline projects. This boon, however, is becoming a cause of concern for the Canadian economy and its depreciating currency, the loonie.
Commodities across the globe have been depreciating for some time now. Declining commodity prices directly impact export revenues and affect the top line for Canadian firms operating in the energy sector such as Suncor Energy (SU), Enbridge (ENB), Canadian Natural Resources Limited (CNQ), and TransCanada (TRP). Respectively speaking, the iShares MSCI Canada ETF (EWC) has up to 3.53%, 3.37%, 2.56%, and 2.54% of its portfolio allocated to these companies.
Article continues below advertisement
Crude oil
WTI (West Texas Intermediate) crude oil, which was trading at over $100 per barrel until July 2014, was down to $46 per barrel on January 26, 2015. What's more, according to Goldman Sachs Group, crude oil is expected to remain near $40 per barrel for most of the first half of 2015.
Canada, the largest crude exporter of the G-7 economies, relies on oil extraction for about 3% of its gross domestic product. And, crude oil accounts for about 14% of exports, according to the Bank of Canada.
Uranium
Uranium, trading at around $65 per pound in February 2011, was down to around $28 per pound by June 2014. After recovering to $40.6 in November 2014, it has again trended downwards, landing at ~$36.95 in December 2014.
As mentioned in Part 3 of this series. Canada is second in the world in terms of uranium reserves. It's also the US' largest foreign supplier of the resource. So, a drop in its price affects Canadian trade revenues from the United States.
Article continues below advertisement
Gold
Gold is Canada's second-largest export. The country is home to almost 75% of the world's mining companies, making it the fourth-largest gold mining country in the world. Gold has depreciated from $1,883 per ounce, in August 2011, to $1,260 per ounce, in January 2015.
Silver lining in the dark cloud
While declining commodity prices are putting pressure on export revenues, there is a silver lining in this dark cloud. Canada is also currently facing a depreciating loonie. This depreciation bodes well for domestic manufacturers and exporters of goods, other than commodities. In fact, a weakening loonie could also go on to cushion the losses of commodity producers as well, because costs of production would decrease.
The cut in the key interest rate has also contributed to the spread between the key interest rate and the prime rate widening. What signal could a widening spread be giving about the Canadian economy?