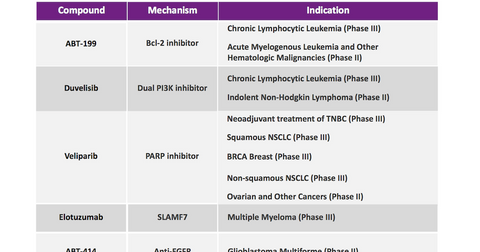 D.E. Shaw ups its position in AbbVie
By Diana Key

Updated
D.E. Shaw and AbbVie
D.E. Shaw raised its position in AbbVie (ABBV) during the fourth quarter of 2014. The company accounts for 0.417% of the fund's portfolio with 4,951,722 shares, up from 0.106% of the fund's 3Q14 portfolio with 1,392,194 shares.
Article continues below advertisement
Overview of AbbVie
AbbVie is a global research-based biopharmaceutical company. It was formed in 2013 after it separated from Abbott Laboratories (ABT). AbbVie develops and markets advanced therapies that address some of the world's most complex and serious diseases. AbbVie products treat:
chronic autoimmune diseases, including rheumatoid arthritis, psoriasis, and Crohn's disease
HIV
endometriosis
thyroid disease
Parkinson's disease
complications associated with chronic kidney disease and cystic fibrosis
The company markets medicines in more than 170 countries.
AbbVie reports loss on termination of Shire deal
In the fourth quarter, AbbVie's revenue grew 8.9% operationally to $5.45 billion. Including foreign exchange impact, sales were up by 5.1% on a reported basis. The growth was primarily driven by arthritis drug Humira. On a reported basis, Humira sales were up 10.6% to $3.4 billion. Sales growth was also driven by operational growth from key products Synagis, Creon, and Duodopa.
The company reported net loss of $810 million, or $0.51 per diluted share, which includes a break-up fee for terminating a merger deal with Shire (SHPG). In October 2014, ABBV abandoned the $54 billion Shire deal, which would have been great tax aversion for AbbVie. This merger was terminated after the US government introduced a new tax rule to discourage corporate mergers. The company's adjusted earnings per share (or EPS) were $0.89.
Article continues below advertisement
Humira drives 2014 growth
For year 2014, global sales grew 7% to $19.96 billion. EPS grew 6% to $1.10. The growth was primarily driven by Humira, which recorded 19% operational growth. Other key products Synthroid, Synagis, CREON, and Duodopa also reported good growth during 2014.
ABBV shares fall after Viekira's disappointing forecast
For year 2015, the company's adjusted EPS is expected to grow by 34% to between $4.25 and $4.45. The company expects its new oral hepatitis C treatment Viekira Pak drug to achieve revenue of $3 billion in 2015. The company expects competition and additional price pressure for Viekira as Merck & Company (MRK) expects to launch rival treatment in 2016.
ABBV shares fell 3.6% on the day of its earnings release.
Article continues below advertisement
Value to shareholders
On February 19, ABBV increased its quarterly dividend by 4% to $0.51 per share. Since the company's inception in 2013, AbbVie has increased its dividend by 28%. You can invest in ABBV by investing in the Health Care Select Sector SPDR Fund (XLV). ABBV accounts for 3.43% of XLV.
D.E. Shaw's key positions in 4Q14
D.E. Shaw sold its positions in VF (VFC) and Kroger (KR). The fund raised its positions in Intel (INTC), AbbVie (ABBV), and Amazon (AMZN). The fund reduced its stake in Apple (AAPL), Priceline (PCLN), and Micron Technology (MU).
In the next part of the series, we'll look at D.E. Shaw's position change in Amazon.