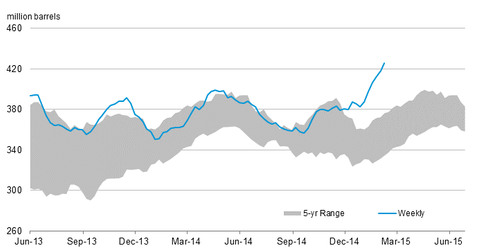 Crude inventory levels crush expectations . . . yet again
By Keisha Bandz

Updated
Crude inventories seem unstoppable
On February 19, the EIA (U.S. Energy Information Administration) reported that crude inventories crushed analysts' expectations yet again.
Inventories increased 7.7 million barrels (or MMbbls) in the week ending February 13. Analysts were expecting an increase of 3 MMbbls.
This is the fifth significant increase in the last five weeks. Inventories have climbed ~37.7 MMbbls over those five weeks.
The total US commercial crude inventory now stands at 425.6 MMbbls, setting another all-time high record. Inventories surpassed the previous record of 417.9 MMbbls set last week.
Article continues below advertisement
Changes in inventories drive WTI (West Texas Intermediate) prices. This impacts the profitability for companies that produce oil, such as Anadarko Petroleum (APC), Chevron Corporation (CVX), ExxonMobil (XOM), and Marathon Oil (MRO). These companies make up ~5% of the SPDR S&P Oil & Gas Exploration & Production ETF (XOP).
Supply-related factors drive crude inventories
For the past few weeks, inventory movement has been driven by strong crude oil production. Last week, output touched 9.28 million barrels per day (or MMbpd), increasing ~54,000 barrels per day (or bpd) over the prior week's levels. At these levels, output is at its highest for weekly data since 1983.
An increase in imports has also caused the surge in inventories over the past few weeks. However, imports declined by 181,000 bpd to 7.1 MMbbls/d last week, offsetting the inventory build to some extent.
Supply forecasts for 2015
According to the EIA's February STEO (Short-Term Energy Outlook), total US crude oil production averaged 9.2 million barrels per day in January. EIA forecasts that output will increase further to an average ~9.3 MMbbls/d in 2015 and increase further in 2016 to an average ~9.5 MMbbls/d. For context, output averaged ~8.67 MMbbls/d in 2014.
A strong crude supply level is bearish for crude prices unless it's met with parallel demand. In the next part of this series, we'll analyze if demand-related factors are balancing supply levels.