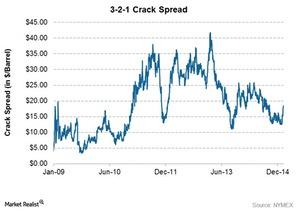 Phillips 66 margins dip on refined products crack spread
By Alex Chamberlin

Aug. 18 2020, Updated 6:28 a.m. ET
What drives the refining segment
We're discussing Phillips 66's (PSX) in 4Q14 and overall 2014 performance in this series. In the last part, we covered the company's performance by segment. In this article, we'll look into one of the major drivers of the refining segment—the crack spread.
Article continues below advertisement
The importance of the crack spread
The crack spread measures the difference between market prices for refined petroleum products and crude oil. In the US, we follow a 3:2:1 crack spread. That's because it takes three barrels of crude oil to produce two barrels of gasoline and one barrel of diesel. A higher industry average crack spread indicates higher profitability for refiners like Phillips 66 (PSX).
From 2012 to 2013, the average crack spread narrowed due to a decline in gasoline and distillates prices compared to crude prices. Lower demand for refined products led to lower prices in 2013. So, the segment's performance deteriorated, resulting in a 3.5% net income margin compared to 5.6% in 2012.
What happened to Phillips 66's refining margin?
In 4Q14, the Phillips 66 refining segment's adjusted net profit, adjusted for non-recurring items, declined to $322 million. In comparison, it posted $418 million in 4Q13, so it was down 23%. The segment realized lower margins in 4Q14 over the same quarter in the previous year.
Article continues below advertisement
The crack spread narrows
This was a result of decreased market crack spreads coupled with narrowing crude differentials. From 4Q13 to 4Q14, the average crack spread decreased ~24%. For the full-year 2014, crack spread decreased 19% over 2013.
Crack spread also affects other major US refiners such as as Valero Energy (VLO), Tesoro (TSO), HollyFrontier (HFC), and Marathon Petroleum (MPC). These companies are all components of the Energy Sector Select SPDR ETF (XLE).
It's important to note that the 3:2:1 crack spread is a benchmark indicator for the industry, but the spreads vary from region to region and by crude types also. PSX has access to a lot of what it calls "advantaged" crude because of its refinery locations. PSX is able to increase its margins because it can lower costs by using cheaper crude from different locations.
What's more, in 4Q14, distillate cracks—that is, diesel produced in crack spread—widened by over 30% over 3Q14. Phillips 66 (PSX) benefitted from these movements because its refineries were configured to produce more distillates.
In the following section, you'll learn about PSX's capital projects.