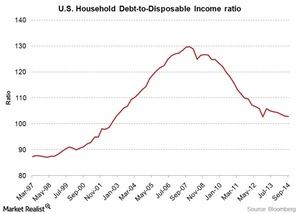 Consumer balance sheets in the US leveling out
By Surbhi Jain

Updated
Very low inflation hampers monetary policy effectiveness
A very low inflation rate tends to challenge the effectiveness of monetary policy. A monetary policy measure such as quantitative easing is intended to pump more money into the economy to reduce rates and make credit cheaper, while also reining in general inflation. But with inflation at such lows as they are now, the effect of monetary easing measures is diminished.
Article continues below advertisement
Consumer balance sheets in the US have improved significantly
During a speaking event in Ohio, Cleveland Fed President and CEO Loretta Mester pointed to the leveraging of consumer balance sheets as one of the receding headwinds to growth in the US (SPY) (IVV). She believes balance sheets have improved over time.
For evidence of this, we can look at the household debt-to-disposable-personal-income ratio. The ratio peaked at 130% prior to the recession. Now, it's closer to 100% after leveling out over the past couple of years.
Home prices have revived after the housing bubble, along with equity markets. US households have made up more than the $10 trillion of net worth that was destroyed back in 2008. The rise in home prices has helped put a check on delinquencies as well, by making mortgage loans more affordable.
Increased credit flow gives a boost to investment
Increased credit flow into the system has helped businesses boost investment at lower rates. So business balance sheets have become deleveraged as well. Business investment momentum is reflected in the performance of industrial ETFs including the SPDR Dow Jones Industrial Average ETF (DIA) and the SPDR Industrial Select Sector Fund (XLI). These ETFs are invested up to 6.6% and 5.5% in 3M (MMM), 4.3% and 5.3% in United Technologies (UTX), and 5.4% and 5.2% in Boeing (BA), respectively.
Business sentiment has turned positive and is now supportive of higher levels of investment and stronger hiring, which ultimately benefits consumers who are part of the workforce.
Speaking of hiring, government spending was the second major headwind resisting economic growth in the US. Let's take a look at how in the next part of this series.