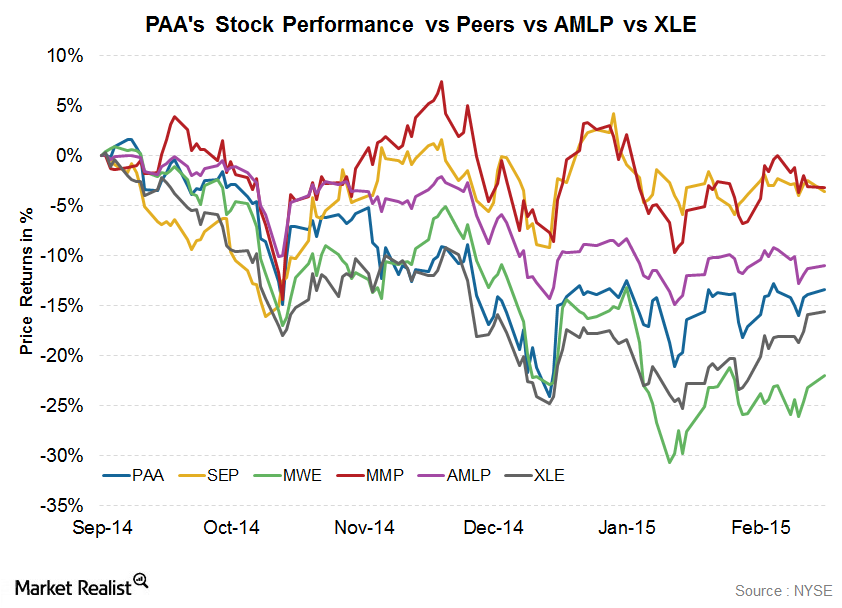 A closeup of Plains All American Pipeline's stock performance
PAA stock jumps slightly
After its 4Q14 earnings announcement, Plains All American Pipeline's (PAA) stock performance improved, jumping slightly by 1.6%. The markets seem to agree with the company's decision to slash distributions and capital spending. Read Parts 3 and 4 of this series for more details.
In the above graph, we've compared Plains All American Pipeline's (PAA) stock returns with its peers' from September 2014 to the present. Most of the company's stocks started declining in September when oil prices began falling.
PAA, in particular, has had returns similar to the Energy Select Sector SPDR ETF (XLE). It was especially similar in the November to December period when it offered the highest negative returns in the group next to XLE.
This indicated that the company wasn't as immune to the plummeting oil prices as it peers. Markwest Energy Partners (MWE) also seems to have been the victim of falling oil prices very early in this phase.
MLPs in general are not as exposed to commodity price risks as their upstream counterparts. Some, however, do have direct exposure since they get paid in kind in commodities in exchange for services.
Spectra Energy Partners (SEP) and Magellan Midstream Partners (MMP) seem to be the best performers in the group in terms of price returns. Magellan Midstream in particular saw a sharp increase since October, which was the same as Spectra Energy. Both stocks overperformed the Alerian MLP ETF.
PAA, SEP, MMP, and MWE all make up ~24% of the Alerian MLP ETF (AMLP).
To find out more about energy companies and their latest 4Q14 results, take a look at Market Realist's Energy and Power page.
Article continues below advertisement