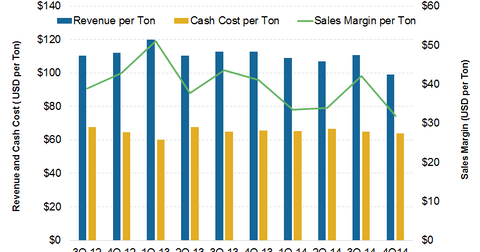 Cliffs' USIO segment had strong operational results
By Anuradha Garg

Updated
US iron ore business
Cliffs Natural Resources' (CLF) US Iron Ore, or USIO, segment mainly sells iron ore to integrated steel companies in the US and Canada—like U.S. Steel (X) and ArcelorMittal (MT). The segment is less sensitive to seaborne prices because most of its contracts are long term.
Also, most of the production is only sold in the US. In the US, the company has logistical advantages over international companies—including BHP Billiton (BHP), Rio Tinto (RIO), and Vale SA (VALE).
Article continues below advertisement
Strong results
Cliffs' USIO segment posted solid results in 4Q14. It posted an EBITDA (earnings before interest, tax, depreciation, and amortization) margin of 36% in 4Q14. The margin was the same in 3Q14. The total EBITDA for 4Q14 was $275 million. USIO realized an average price of $99 per ton in 4Q14. The average seaborne prices were $74 per ton. This shows USIO's resilience due to to long-term contracts with steel players in the domestic market.
USIO's pellet sales volume in 4Q14 was 7.8 million tons. This is a 26% increase—compared to 6.2 million tons sold in 4Q13. The increase was primarily driven by increased customer demand in the Great Lakes. The increase was also attributable to the continued catch up from the delayed start of the shipping season in the spring of 2014.
In USIO, the cash production cost per ton was $59.06—down 5% from $61.86 in the fourth quarter last year. The decrease was primarily driven by a sustainable reduction in employment and related costs.
Outlook
For 2015, Cliffs expects full-year sales and production volume of ~22 million tons from its USIO business. Cliffs doesn't plan to export any pellets out of the Great Lakes in 2015. The company's cash cost of goods sold per ton expectation is $60–$65. This expectation reflects operational improvements including reduced headcount, more efficient maintenance practices, and improvements in logistics.
It's important to note that Cliffs forms 3.69% of the SPDR S&P Metals and Mining ETF (XME). U.S. Steel forms 3.38% of XME.