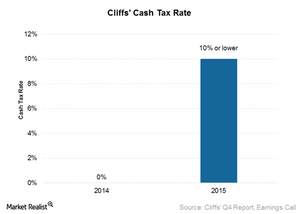 Cliffs' cash flow will get support from tax funding in 2015
By Anuradha Garg

Nov. 19 2019, Updated 6:38 p.m. ET
Impairments and losses lead to tax gains
During the fourth quarter, Cliffs Natural Resources (CLF) recorded impairment charges of $1.2 billion attributable to its shareholders. This included ~$940 million related to the exit from Eastern Canadian Iron Ore.
The impairment charges also included ~$250 million related to Asia Pacific Iron Ore, or APIO. It was driven by reduced benchmark price assumptions over the remaining life of the mine. These charges resulted in tax benefits totaling ~$180 million.
Article continues below advertisement
The company recorded a loss on the sale of coal assets of $420 million. The results for 4Q14 included an income tax benefit of $306 million. The tax benefit includes the benefits related to impairment charges and a $190 million US benefit on the recognition of a loss on a financial guarantee and the sale of Cliffs Logan County Coal.
2014 tax rate close to zero
Due to the losses incurred by Cliffs in 2014, its tax rate was close to zero. As the company moves forward into 2015, some of the loss is carried forward. It also had to use some loss carrybacks. The company has a sizeable receivable that's due from an income tax standpoint. So, Cliffs' cash taxes going into next year will be a lot lower than they've been in the past. Management indicated that its cash taxes will be less than 10% or lower.
Tax carryforwards
The company also has a significant amount of tax net operating loss, or NOL, carryforwards associated with its alternative minimum tax, or AMT, rate. It will protect the company from a future cash tax rate going into 2015 and beyond. Loss carryforward is an accounting technique. It applies the current year's net operating losses to the future year's profits in order to reduce tax liability.
To some extent, this will reduce Cliffs' pressure cash flows. Across the board, iron ore companies are facing cash flow issues—like BHP Billiton (BHP), Rio Tinto (RIO), and Vale SA (VALE).
It's important to note that Cliffs forms 3.69% of the SPDR S&P Metals and Mining ETF (XME).