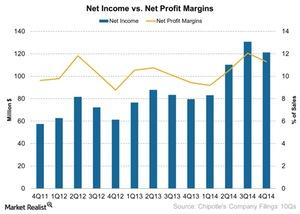 Chipotle's bottom line grows 52% in 4Q14
Chipotle's bottom line
Net income for Chipotle Mexican Grill (CMG) grew by 52% to $121.1 million year-over-year (or YoY) from $79 million in the corresponding quarter a year ago. Profit margins also increased to 11.3% from 9.4% YoY, primarily because of a strong revenue growth of 27%. Operating expenses declined to 84% from 82.4% YoY as a percentage of sales, primarily due to the company's sales leverage that we discussed in the earlier part of this series.
As of 4Q14, the company had no debt on its balance sheet and a cash balance of $419 million. The company plans to use part of this cash towards its two new concept restaurants as well as on restaurant development outside of the US.
Article continues below advertisement
Tax rates
Chipotle's effective tax rate for the quarter was 37.6%, which was lower due to a change in estimates. The company also repurchased $25 million of its shares at an average price of $650, which left $102 million on its share buyback program.
Chipotle Mexican Grill is also held by the broader ETF Consumer Discretionary Select Sector SPDR Fund (XLY), which holds other restaurant stocks such as 4% of McDonald's (MCD), Yum! Brands (YUM), and Starbucks (SBUX).
During the earnings call, Chipotle management shared forward guidance on the expectations for the company. We'll look at this in the next part of the series.