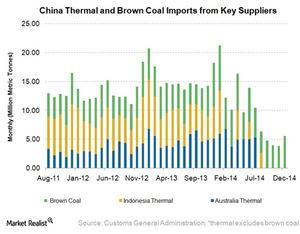 Why China's coal imports are declining
By Katie Dale

Feb. 16 2015, Published 3:56 p.m. ET
Importance of coal imports
China is the world's top coal consumer. China's coal trade accounts for almost a quarter of the global trade. In 2014, China's coal imports recorded their first year-over-year dip in six years. Imports dropped 10.9% to 291.2 million tonnes. More than 90% of the country's coal imports are seaborne, according to the China National Coal Association.
The Guggenheim Shipping ETF (SEA) as well as dry bulk shippers like DryShips (DRYS), Diana Shipping (DSX), Navios Maritime Holdings (NM), and Safe Bulkers (SB) have a direct correlation with the commodity imports data. Lower coal imports will have a negative impact on these companies.
Article continues below advertisement
Coal imports
According to data from the General Administration of Customs, China imported 16.78 million metric tonnes in January 2015, a decrease of 38.35% from December 2014 and 53.2% lower than January 2014 levels. Despite being a traditionally busy month due to restocking ahead of the Chinese New Year, China's January coal imports slumped to their 6-year low.
Liu Dongna, a coal analyst with Sublime China, said the decline in coal imports was mainly a result of the government's policy of encouraging domestic coal use and the stricter management of imported coal. Also, new quality control measures that came into effect on January 1, 2015, impacted the imports. Those measures regulate coal use in China and limit the trading of low-quality coal, including imported coal.
Liu said that China's domestic coal demand is weakening because the economic slowdown has resulted in weaker power consumption, as domestic coal prices continued to fall.