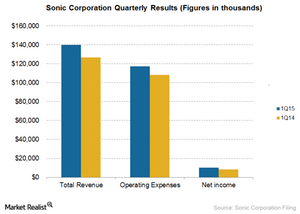 Chilton Investment adds new position in Sonic Corporation
By Adam Rogers

Feb. 20 2015, Updated 9:06 a.m. ET
Chilton Investment and Sonic Corporation
Chilton Investment Company started new positions in Sonic Corporation (SONC), Endo International plc (ENDP), Apache Corporation (APA), and Realogy Holdings Corp. (RLGY). It closed positions in FedEx Corporation (FDX) and Priceline Group Inc. (PCLN). Chilton increased position in FleetCor Technologies, Inc. (FLT) and Covidien plc (COV). It decreased positions in Wynn Resorts Ltd. (WYNN) and Timken Company (TKR).
The hedge fund has invested more than $32 million in Sonic Corporation (SONC), which now represents 1.14% of Chilton's total portfolio. SONC has a  0.14% exposure to the iShares Russell 2000 Growth ETF (IWO). The ETF tracks the overall performance of 1,200 publicly traded high growth companies.
Article continues below advertisement
Overview of Sonic Corporation
Sonic Corporation (SONC) is a US-based drive-in fast food chain of restaurants founded in 1953 and headquartered in Oklahoma City. SONC has more than 3,500 restaurants across 43 states in the United States. Company restaurants are owned and operated by Sonic Restaurants, Inc., a wholly owned subsidiary.
Sonic Corporation declares 1Q15 results
In January 2015, SONC declared its 1Q15 results and reported income of $10.1 million or $0.18 per diluted share compared with net income of $8.2 million or $0.14 per diluted share in the same period in the prior year.
Here are some key highlights of Sonic's 1Q15 results:
System same-store sales increased 8.5%, consisting of an 8.5% same-store sales increase at franchise drive-ins and an increase of 7.9% at company drive-ins.
Company drive-in margins improved by 70 basis points versus the first quarter of fiscal year 2014.
The company opened 13 new drive-ins.
The company repurchased approximately $20 million of stock and paid its first-ever quarterly dividend of $0.09 per share.
As stated by J. Clifford Hudson, Sonic's CEO (chief executive officer), "We are extremely pleased with our performance in the first quarter and believe that our focus on innovative products, increased media effectiveness and a layered day-part promotional strategy were instrumental to our continued success. Our business momentum remains strong as improvements in core menu items combined with limited-time-offer promotions are driving our same-store sales growth. Further, we expect our technology initiatives will provide an additional layer of growth to build sales and profits over the next several years."
SONC to open eight new drive-in restaurants
Sonic Corporation has entered into a franchise agreement with Fast Eats LLC to open eight new drive-ins in New York's Capital District and surrounding areas over the next seven years. SONC wants to capitalize on the impressive track record of Fast Eats and benefit from its superior market knowledge.
The drive-ins will also feature indoor dining areas in order to allow guests to experience dining at a table inside the restaurant as well as in their cars.
The next article in this series will explore Chilton Investment's position in Endo International plc (ENDP).