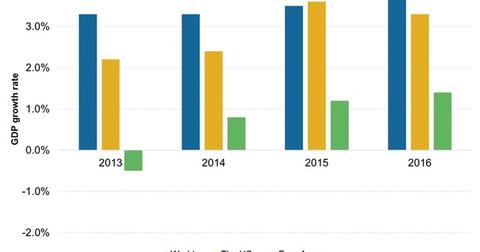 Can Europe remain stable and grow at the same time?
By David Ashworth

Updated
Twin challenges
The discussion on Europe at the World Economic Outlook (or WEO) panel was titled "Europe's Twin Challenges: Growth and Stability." It was chaired by Robin Niblett, director of Chatham House, of the United Kingdom. The speakers included Sigmar Gabriel, vice chancellor of Germany; Mark Rutte, prime minister of the Netherlands; Enda Kenny, taoiseach (prime minister) of Ireland; Alexander Stubb, prime minister of Finland; and Laimdota Straujuma, prime minister of Latvia.
These government leaders discussed how Europe can deal with the twin challenges of achieving economic growth and maintaining political stability.
Article continues below advertisement
Economic growth
Germany has been against the idea of a quantitative easing program for the Eurozone. Sigmar Gabriel maintained that line and reminded the panel that it took eight years for Germany to benefit from its structural reforms program. He wondered if it would take that long for other European nations to benefit from structural reforms.
Although Gabriel acknowledged the role of Germany in supporting the Eurozone, he added that other European countries should have the courage to take structural reforms.
Germany's reforms have not only helped its economy but also Germany-focused ETFs such as the iShares MSCI Germany Index Fund (EWG), which has returned more than 40% in the past three years.
Laimdota Straujuma narrated a similar experience saying that Latvia's economy overcame the crisis via structural reforms. She linked stability to economic growth by saying that the latter is a must for the former to happen.
Though Latvia doesn't see much investment by ETFs, other nations represented in the debate do. The iShares MSCI EMU Index Fund (EZU) has nearly 40% of its assets invested in stocks of Germany, the Netherlands, Finland, and Ireland. The SPDR DJ EURO STOXX 50 ETF (FEZ) has 38% of its assets invested in these countries.
Meanwhile, the WisdomTree International Hedged Equity Fund (HEDJ) has a little more than 43% of its assets invested in stocks listed in these countries. On the other hand, the Vanguard FTSE Europe ETF (VGK) is dominated by the United Kingdom with 32% exposure, while these countries make up around 18%.